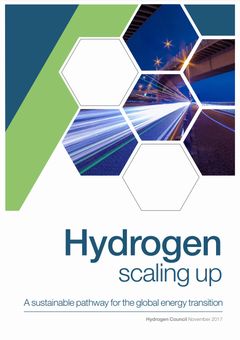 Hydrogen, scaling up
As co-chair of the Hydrogen Council, Toyota Motor Corporation issued a statement on November 14, 2017, about the world's first detailed vision for the future role of hydrogen. The Hydrogen Council's vision (part of a study report) was developed by 18 leaders assembled from a variety of industries around the world, with support from consulting firm McKinsey & Company.
With large-scale introduction, hydrogen has the potential to provide about one-fifth of global energy consumption by 2050. This would reduce about six billion tons of CO2 emissions annually compared to the present level, covering about 20% of the emission reduction required to keep global warming under two degrees Celsius.
This vision provides a roadmap for a large-scale deployment of hydrogen as well as for energy transition, with hydrogen being one of the main pillars of an energy transition and having the potential to create 2.5 trillion dollars of business and more than 30 million jobs.
The report predicts that the demand for hydrogen could be tenfold the current level by 2050, and about 80 EJ of energy could be produced by hydrogen, equivalent to about 18% of the world's final energy demand in 2050 in the 2-degree warming scenario. While the global population is expected to reach 9.8 billion by 2050, hydrogen technologies have the potential to create opportunities for sustainable economic growth.
The Hydrogen Council was launched in early 2017 at the World Economic Forum held in Davos, Switzerland. It is the first global initiative by CEOs to promote the role of the hydrogen technologies in the global energy transition.
In its announcement, the Hydrogen Council called on investors, policy-makers, and businesses to accelerate the deployment of hydrogen for the energy transition.