JFS Newsletter No.175 (March 2017)
The Faculty of Environmental Studies at Tokyo City University, where Junko Edahiro, representative of Japan for Sustainability (JFS), works as a professor, has held a contest each year to award junior high and high school student groups for outstanding practices in environmental/social activities since 2013. The contest was launched with the aim of supporting student initiatives in environmental conservation.
JFS became one of the partner organizations for the fourth contest, held in 2016. At the awards ceremony on October 22, 2016, four student groups won the Award of Excellence and one group was selected among the four for the Grand Prize.
The following seven criteria were used for evaluating the applicants' performances:
content and approaches of environmental/social activity
results of environmental/social activity
degree to which other students are involved
degree to which other entities are involved
degree of satisfaction/learning among participating students
social impact
potential for the activity's independent development and continuity
Edahiro was among the five members of the evaluation panel.
Here, we introduce the winning groups and their activities.
---
Students' Own Resourceful Forest Conservation Efforts
The Global Environment Club, part of the non-profit organization Green Dam Kitasagami won the Grand Prize. This group also won the Award of Excellence for its outstanding environmental communication performance.
This group's members are students and graduates of junior high and high schools in Tokyo, including the Tokai University-affliated Bosei Senior High School, Takaido Junior High School in Suginami City, and Dai-ni Junior High School in Mitaka City. They practice every step of forest management by themselves, from investigating and planning, to implementing their plans in a forested parcel of land located on Arashiyama, one of the foothills surrounding Lake Sagami in Kanagawa Prefecture. Their thinning and pruning skills are advanced enough to be acknowledged by forestry professionals.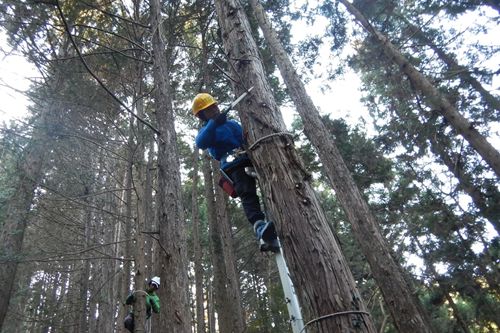 Copyright The Global Environment Club, NPO Green Dam Kitasagami All Rights Reserved.
They have also adopted the Geographic Information System (GIS) in their activities. This enables them to manage all basic information about the forest such as locations and amounts harvested as integrated digital data. In Japan, many owners of private forests face the problem that there is no way to identify borders between forests. This makes it hard for forest management to advance. The Global Environment Club is willing to provide solutions to this problem through their GIS-based accomplishments. It has launched a project for that purpose, along with working for forest protection, jointly with Azabu University.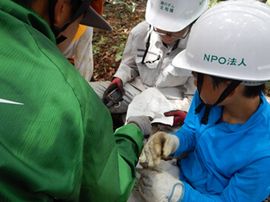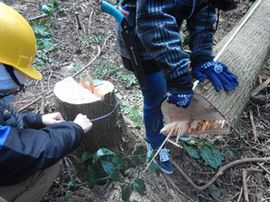 Copyright The Global Environment Club, NPO Green Dam Kitasagami All Rights Reserved.
The group has conducted several events to openly appeal to the public on the importance of forest protection. At these, they have displayed miniature mock-ups of the Tokyo Station building and the Angkor Wat temple complex constructed from wooden blocks made out of thinned timber. They created these marvelous works using only their imaginative talent and three kinds of blocks, with no adhesive materials. Participants viewing their works directly admired their high degree of demonstrated skill.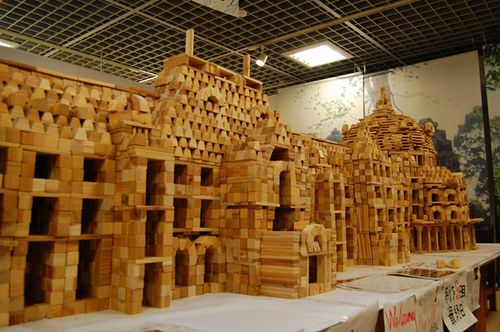 Copyright The Global Environment Club, NPO Green Dam Kitasagami All Rights Reserved.
Judge's comment: The judges gave the group high marks for how the students from different junior high and high schools could voluntarily and autonomously work together in forest management activities. Collaborating with a university and other entities, this club has developed an advanced forest management system utilizing forest GIS, which makes this group and its activities sustainable. We highly anticipate the group's efforts having a strong impact on society.
Soil Restoration Using Mushroom and Paper Sludge
The Mushroom Study Team at Fugakukan High School, Shizuoka Prefecture, was selected for the award by the chair of Restoration Ecology and Built Environment Department at Tokyo City University. This team developed an agent to rehabilitate soil damaged by salt due to seawater intrusion as a result of the tsunami from the Great East Japan Earthquake in March 2011.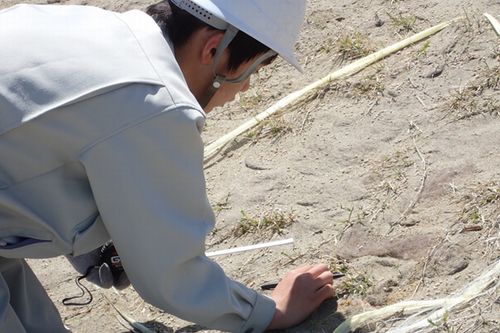 Copyright The Mushroom Study Team, Fugakukan High School All Rights Reserved.
The phenomenon in which a ring shape appears in grass on a lawn, where it grows thicker and greener than the surrounding grass, is commonly referred as a "fairy ring." Researchers at Shizuoka University have published results of a study on this phenomenon showing that certain kinds of mushrooms generate a plant growth regulator which facilitates grass growth. The study also revealed that the same substance gives some plant species resistance to certain kinds of environmental stress. Based on these results, if the plant-growth regulator can be proven effective at ameliorating stress from salt and dry weather, which cause problems during disaster reconstruction, the team expects to utilize it for greening levee slopes and restoring salt-damaged rice paddies in disaster-affected areas.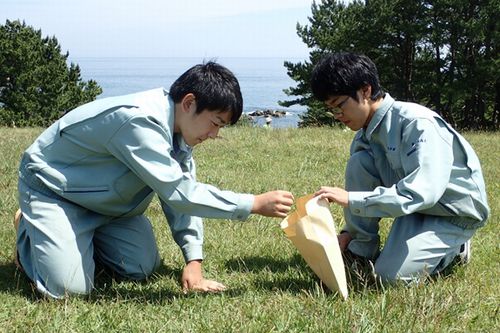 Copyright The Mushroom Study Team, Fugakukan High School All Rights Reserved.
The students succeeded at extracting plant-growth regulator 2-aza-8-oxohypoxanthine (AOH) from Marasmius oreades, known as "the fairy ring mushroom," and then developed AOH chips utilizing paper sludge generated by a local paper company as a medium. They tested the chips to see if they would work in salt-damaged rice paddies in Tohoku, verifying increased rice yields in salt-stressed paddies. They also observed the chips' effect at helping plants grow on levee slopes along the Naruse River in Miyagi Prefecture. In addition the team succeeded at restoring the vigor of cherry trees damaged by the tsunami along the same river.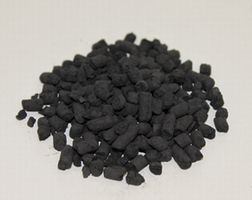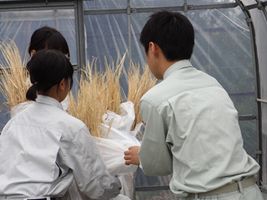 Left: AOH chips
Copyright The Mushroom Study Team, Fugakukan High School All Rights Reserved.
Judge's comment: The students extracted substances from mushrooms on their own and developed a soil restoration agent using paper sludge from a local paper company. Using the materials they developed, they worked to restore and green the disaster-affected areas damaged by salt. The judges highly credit the group with trying to implement scientific research in practical applications.
Floral Power to Decontaminate Indoor Environments
Team Flora Photonics at Nakui Agricultural High School in Aomori Prefecture was awarded for its excellent school practice in utilizing plants to improve the indoor environment, where people spend most of their time every day.
Using advice from a seed company, a measurement device manufacturer and graduate students, Team Flora Photonics is working locally in collaboration with Hachinohe City, Nambu Town and various facilities to improve the indoor environment. From experiments with several leafy plant species, the students found that SunPatiens® (an impatiens hybrid developed by a seed breeding company) can clean the air, and is especially good at quickly removing substances that cause sick building syndrome indoors.
The group also studies stress relief effects by growing aromatic plants indoors, which produces more natural conditions than using essential oils, and also consumes less electricity. Members of the group work with hospitals, kindergartens, nursing homes and other facilities in the area to promote their activities. To reduce indoor pollutants in the rooms of newly-built temporary housing which people moved into after the Great East Japan Earthquake, the group occasionally checks pollutant levels, offers plants for enjoyable flowers as well as clean air in rooms, and interacts with local residents by planting flowers together.
Judge's comment: This group's activity is unique, utilizing the physiological and ecological features of plants and flowers. They also address human health issues related to the indoor environment, including stress and sick building syndrome. Their abilities in practice and collaboration to improve local well-being are also highly rated, for example, their conference presentations of study outcomes, promotional activities in cooperation with local communities and active involvement in the disaster-stricken areas.
Conservation of Endangered "Japanese Azalea" Species
The Local Collaboration Award was given to "Team Flower's" of the Oita Prefectural Kusumiyama High School. At the request of the town of Kusu, the group is tackling Japanese azalea conservation. This is the town flower and a designated endangered species in Oita Prefecture.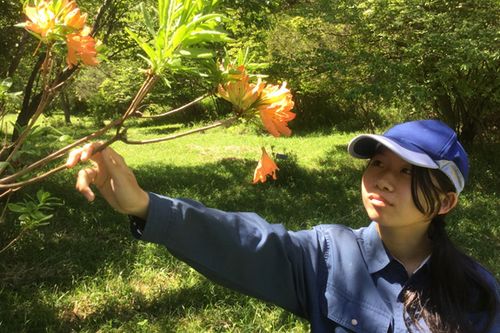 Copyright Team Flower's, Oita Prefectural Kusumiyama High School All Rights Reserved.
This conservation activity has been handled by local farms in Kusu, but labor shortages due to lower birthrates and the aging population are making it difficult for them to continue. Team Flower's conducted research at the town's request, and found conditions unfavorable to the azalea, such as drying soil, roots being crowded by invading bamboo grass and lack of sunlight due to unkempt and overgrown woods.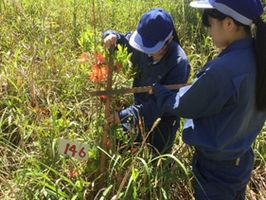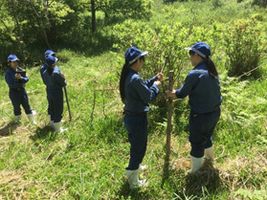 Copyright Team Flower's, Oita Prefectural Kusumiyama High School All Rights Reserved.
The group also tried to increase the azalea's population on school grounds, successfully propagating its seedlings. Approaching related authorities to obtain permission for planting in protected zones, the group members are also working on planting the species outside the protected zones. Wanting to help the Japanese azalea recover, the group now plans to expand its range of activity by promoting the conservation movement among the area's residents.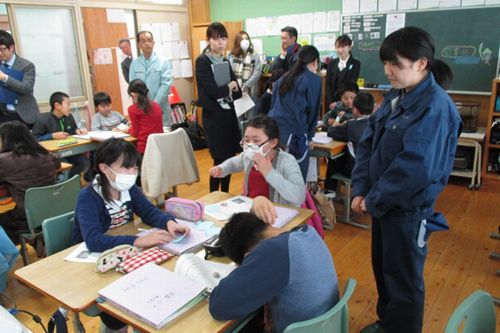 Copyright Team Flower's, Oita Prefectural Kusumiyama High School All Rights Reserved.
Judge's comment: This group has continued to implement activities to conserve and propagate the prefectural flower, Japanese azalea, for the past seven years. Their activities are closely connected to the local community, and their findings are shared with local residents through lecture visits to elementary schools and postings on local offices' websites. We expect their activities to continue and the area to become the Japanese azalea's "hometown."
---
The participating schools are making consistent and steady efforts, receiving advice from specialists, firms and colleges on points requiring expertise, and continuously building cooperative relationships with them. Every initiative is based on contributing to local communities or the people still suffering from the 2011 disaster. We hope their activities will be continued by up-and-coming younger student members.
JFS will keep an eye on further efforts in environmental conservation by this year's award-winning schools as well as other junior high and high school students in Japan.

Written by Noriko Sakamoto