JFS Newsletter No.171 (November 2016)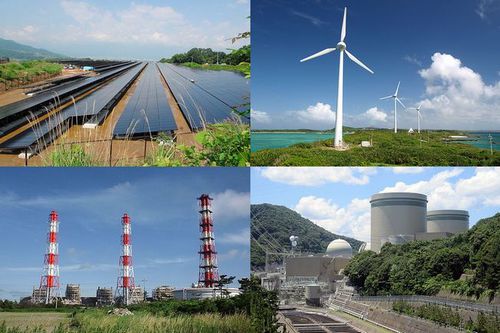 Image by Sakaori, Paipateroma, Ketsudan, Hirorinmasa Some Rights Reserved.
In April 2016, Japan woke up to a fully liberalized electricity market. All consumers, including general households and small-scale business establishments (low-voltage contract consumers), can now choose freely among power companies (electricity retailers) for their electricity, and do not have to simply buy from the regional power utilities that monopolized the market until now.
It is expected that consumers will be able to choose electricity from renewable sources instead of fossil fuel-powered thermal (along with its problems in terms of climate change) or nuclear power generation (whose great risks again became evident with the Fukushima Daiichi nuclear disaster, caused by the tsunami after the Great East Japan Earthquake in March 2011). However, various problems must be solved first.
Problems with Full Liberalization of the Electricity Market
The process of electricity market liberalization began around ten years ago, and since then business establishments and factories larger than a certain size (high-voltage and extra-high-voltage contract consumers) have been able to buy electricity from "power producer and supplier" (PPS) companies, in addition to the large, monopolistic power companies (general electricity utilities). After the Fukushima Daiichi nuclear disaster, nearly 800 PPS companies filed documentation required by law, but only 135 have actually supplied any electricity, and they held only about 9 percent of the market share at the end of fiscal 2015 (i.e., March 31, 2016).
After full electricity market liberalization went into effect, the market share of PPS companies expanded in the regions that had been monopolized by Tokyo Electric Power Company and Kansai Electric Power Company, reaching 14 percent. The procedure for registration as an electricity retailer is now being performed based on screening by the Electricity and Gas Market Surveillance Commission (EGC), which was established for the liberalization and reform of the energy market. As of August 2016, more than 300 organizations had completed registration, and one after another have announced their power rate options for general households.
Electricity and Gas Market Surveillance Commission
http://www.emsc.meti.go.jp/english/
Nearly 1.5 million users had applied to switch to PPS companies by the end of July 2016, accounting for about 2.4 percent of all users. Various websites compare the electricity rate "menus" of PPS companies, but most focus on how low their electricity rate is, without disclosing the actual energy "mix," making it still difficult to compare providers.
To promote the retailing of electricity from renewable energy sources, some PPS companies are now participating in the "Power Shift" campaign (secretariat: FoE Japan). The campaign's website showcases PPS companies that sell power generated from renewable energy in each region and encourages electricity users to make a "power shift" declaration and choose a PPS company that prioritizes renewable energy.
Power Shift Campaign
http://power-shift.org/ (Japanese)
However, conditions are becoming more difficult for power companies that emphasize renewable energy. For example, procurement of renewable energy electricity from Japan's Feed-in Tariff system (FIT electricity) is going to become more expensive due to revisions in the ways costs are calculated, and starting in April 2017, it will be mandatory to buy FIT eletricity from transmission and distribution companies.
Note: A "feed-in tariff" system is a policy mechanism to accelerate investment in renewable energy technologies by having utilities offer to purchase electricity at predetermined rates from renewable energy producers in long-term contracts.
At the same time, from the perspective of consumer rights, electricity users need to be able to choose their power company from among multiple PPS companies registered under the licensing system.
To that end, it is first necessary to make it mandatory for power utility companies and retail electricity suppliers to disclose the breakdown of their electricity rates and energy mix. Then a mechanism of information disclosure on operators of electric power production, transmission, and distribution, as well as on the wholesale electricity market, has to be put in place. At the same time, consumers should be able to check information such as the breakdown of electricity rates and energy mixes of their power suppliers at any time online or on their monthly utility bills. For consumers, it is important to know where the electricity from renewable sources is generated, how it is traded, and how it is delivered to them.
As for the breakdown of electricity rates, more detailed information needs to be disclosed, such as (1) "wheeling charges" (cost of transmitting electricity); (2) the cost of generated electricity equivalent to the amount of expenses shared to cover the reprocessing of spent nuclear fuel , etc. (included in the wheeling charges; legislation requires all electricity users to pay a share of this cost); and (3) the amount of a "promotion of power-resources development tax," which is used to subsidize local governments hosting nuclear power plants.
Disclosure of information on energy mix details including the share of renewable energy sources and the amount of nuclear waste (both of which are already mandatory disclosure items in Europe) is not specified in the Guidelines Concerning the Management of the Electricity Retail Business issued in January 2016, but it is indicated as a "desired practice" for retail electricity suppliers. They are only required to "make an effort." Therefore, for now, consumers should also evaluate more positively those retail electricity suppliers who proactively disclose the breakdown of their energy mix details and electricity rates.
Guidelines Concerning the Management of the Electricity Retail Business, Ministry of Economy, Trade and Industry (January 2016)
http://www.meti.go.jp/english/press/2016/0129_01.html (English)
Issues Surrounding Electrical Power Systems
In order to develop an environment where consumers can actually make a choice of retail electricity suppliers and electricity generated by the source that they want, it is necessary to establish robust bodies that can operate wide-area systems. Unbundling is also needed (separating electrical power generation and power transmission and distribution) so that a system can be established that ensures the necessary fair and neutral control and operation of power transmission and distribution grids. In this sense, to achieve fairness and neutrality in the power transmission and distribution sector by unbundling as planned by fiscal 2020, power utilities must move further to separate ownership (which has already been achieved in Europe), rather than remaining at the (low) level of legal unbundling they are currently planning.
Also, grid connection problems are observed in the fact that connections of power generated from renewable sources are practically rejected in various ways. For example, nuclear power, coal thermal power, and other existing power sources are still prioritized without much thought given to "priority dispatching," something which is needed for the full-scale introduction of renewable energy sources. Another example is where power utility companies water down the system connection rules, which require utility companies by law to allow PPS companies to connect to their power grids based on the principle of open access. They claim to have a "limited connectable amount" (which seems dubious) by charging excessive "construction contributions" to other operators, and by giving notification of "no more availability for further connection" as a result of prioritizing existing power sources or their own future plans.
For renewable energy to spread more widely on a full scale, actual separation of power generation and power transmission and distribution (i.e., ownership separation) should be achieved at the same level as in Europe. Then, a high goal for introduction of renewable energy should be set, and the electrical power system needs to be reformed to achieve it. Such a reform would incorporate the "priority connection" rule, in which the priority is given to power producers using renewable energy to connect to power transmission grids, and the "priority dispatching" rule, in which electricity generated using renewable energy is supplied first, before electricity generated from other sources of energy. Both rules are important and are already in effect in Europe.
In Japan, there was a "connection obligation" with some conditions under the Act on Special Measures Concerning Procurement of Electricity from Renewable Energy Sources by Electricity Utilities, known as the FIT Act, but it was removed under the revised FIT Act, and was replaced with the principle of "open access" under the Electricity Business Act. The "open access" is to ensure that PPS companies using any type of energy sources have access to power grids, in principle. What is considered a problem in Japan, however, is that there is no rule of "priority dispatching" to give priority to electricity from renewable sources with cost sharing of grid connecting already taken into account, like in Europe. As for sharing the cost of grid connection, the amount specified for power producers should be minimized and the cost should be categorized as a general cost. Why? Because transmission and distribution grids that operators of power transmission and distribution develop systematically as their equipment formation will serve as infrastructure for the whole of society.
Partial Revision of the Act on Special Measures Concerning Procurement of Electricity from Renewable Energy Sources by Electricity Utilities
http://www.meti.go.jp/english/press/2016/0603_06.html
Conventionally, the allocation of grid connection costs was based on the "specific expense" (deep grid connection charging system), which requires power producers to bear all grid connection costs. Then, in regard to costs for reinforcing core networks, guidelines that practically allow the costs to be categorized as "general expense" (which can be collected in the form of the wheeling charge) were established in November 2015. However, in March 2016, the Organization for Cross-Regional Coordination of Transmission Operators, Japan (OCCTO) set limits on the amount of general expense allowed. The limits are unfavorable for renewable energy sources (solar and wind power, which are variable in output), at around half of what was set for thermal power-generated (fossil-fuel) electricity.
Organization for Cross-regional Coordination of Transmission Operators, Japan (OCCTO)
http://www.occto.or.jp/en/index.html (English)
And there still more challenges. Under Japan's Basic Energy Plan, decided by the Cabinet in April 2014, nuclear power is still regarded as a base-load power source. Also, transmission grids are operated by regional power utility companies within their own service areas, and that hampers the implementation of "priority dispatching" for renewables on a par with European countries.
Meanwhile, the interconnection of power systems (connecting between power utilities) has mostly been used only in emergencies. That is an issue for renewable energy. Japan needs to create a power system, like Europe already has, with the capacity to adjust for variable renewable energy sources, such as solar and wind.
Solving these issues is left mainly for consideration by OCCTO's committee, which was set up in April 2015 as the first initiative to reform the power system, as well as OCCTO's Guidelines for Services for Electricity Transmission and Distribution, etc. The guidelines specify basic guiding principles on the wheeling service of electric power by general electricity transmission and distribution companies, and electricity transmission companies, as well as on the implementation of operations in terms of transforming, transmitting, and distributing electricity. The guidelines also specify rules for relevant procedures on connecting to an electrical power system and for the implementation of priority dispatching for renewable energy after connection.
Guidelines for Services for Electricity Transmission and Distribution, etc., OCCTO
https://www.occto.or.jp/en/companies/guideline/index.html (English)
Challenges in the Wholesale Electricity Market
Currently, Japan needs to expand the scale and contents of transactions of the small-scale wholesale electricity market, including the Japan Electric Power Exchange (JEPX), and create a situation where electricity retailers procure and sell the required types and volumes of electricity in a fair manner, like in European countries. As of fiscal 2014, however, the volume of electricity traded by JEPX accounted for only less than 2 percent of electricity sold in Japan.
In an attempt to expand the wholesale electricity market, a new market system was launched in April 2016 that makes it possible to buy and sell electricity until one hour before the real supply and demand. There are plans to create markets for medium- and long-term futures transactions and shorter-term real time transactions.
Meanwhile, the Electricity Systems Reform Subcommittee was set up under the Advisory Committee for Natural Resources and Energy in September 2016. The subcommittee's market improvement working group has begun to consider the introduction of a "capacity market" system, which improves the accessibility and adjustment ability for the base load electricity in the wholesale electricity market, and also a "non-fossil value trading market" system, which aims to cut carbon dioxide emissions.
Conclusion
Japan has made much progress in the past ten years in electricity market liberalization and the promotion of renewable energy. New systems are in place, and electricity users now have more choice, but much more work is needed to promote more transparency in the market, and to encourage renewables, while reducing the preferential conditions still in place for the conventional players and energy sources.
Written by Hironao Matsubara
Institute for Sustainable Energy Policies (ISEP)