JFS Newsletter No.167 (July 2016)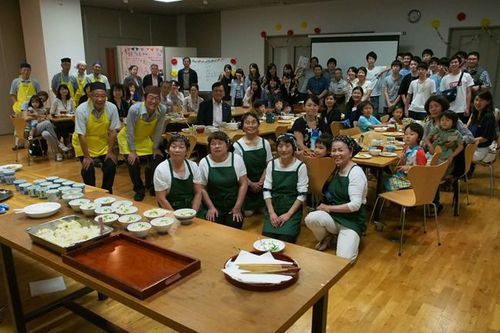 It has been just over a year since I started the Edahiro Laboratory, working with students at the Faculty of Environmental Studies of Tokyo City University while representing Japan for Sustainability (JFS). Under the motto of "Transforming society while fostering human resources capable of transforming it," laboratory members have engaged in a variety of activities.
Edahiro Laboratory website (Japanese only)
http://www.yc.tcu.ac.jp/~edahiro-web/index.html
In a recent JFS newsletter article I wrote about the Edahiro Laboratory's research activities in a small, semi-mountainous community in Kumamoto Prefecture, Kyushu, in southern Japan. We visited the community in September 2015.
Aiming for Happiest Marginal Community in Japan through Renewable Energy
http://www.japanfs.org/en/news/archives/news_id035428.html
Using what was learned from our activities, Edahiro Laboratory students, together with the Mizumasari community and citizens leading volunteer activities in Setagaya City, Tokyo, opened a one-day "Kodomo-Shokudo" (meaning "Children's Cafeteria") event on June 22, 2016.
Marginal Community Members, Urban City Residents, College Students Collaborate on One-Day Kodomo-Shokudo
Widening economic disparity is becoming a serious social problem in Japan like elsewhere. In fact, the relative poverty rate of Japanese children under 18 is 16.3 percent, meaning that an alarming one in six children faces poverty in Japan. To help respond to the problems of child poverty and children having to eat supper alone because their parents work till late, several Kodomo-Shokudos now operate across Japan, mainly in the Tokyo metropolitan area, providing free or reduced-price meals to children.
Kodomo-Shokudo Project to Provide Children with a Warm Meal and Place to Visit
http://www.japanfs.org/en/news/archives/news_id035533.html
In Setagaya, the home ground of Japan for Sustainability as well as the Institute for Studies in Happiness, Economy and Society, several Kodomo-Shokudos are now operating and many people say they want more Kodomo-Shokudos to open. In order to help Kodomo-Shokudos achieve their mission to provide a warm meal and place for local children to visit, various measures for support and network-building are now needed.
On the other hand, local communities in Japan face problems of decline and aging population, and the nation has reached a crisis point on how to maintain its villages and agricultural industry. Since 2015, Edahiro Laboratory has conducted research in the community of Mizumasari, located in the Shimaki district of Yamato, Kamimashiki-gun, Kumamoto Prefecture, where a total 18 people live in 10 households and the average age is 72. It certainly is one of Japan's so called "marginal communities." More information on Mizumasari can be found at the website below:
http://www.japanfs.org/en/news/archives/news_id035428.html
Rural areas, however, have many things that urban areas lack. Clean air and water go without saying, but people in rural areas enjoy the availability of local products including rice, fresh vegetables and nourishing soybeans as well as the warm-heartedness of the people producing them and the history and culture rooted in the land. These are treasures city people rarely obtain.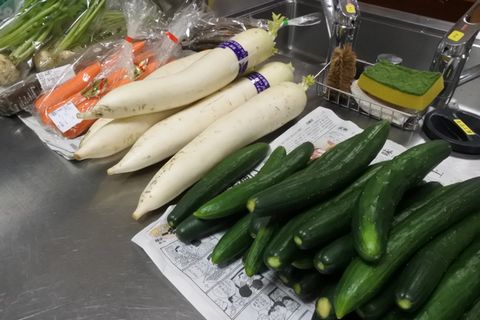 What people in Mizumasari wish for is "to have children in cities eat a lot of our rice and vegetables." In order to extend their good will to urban areas, Edahiro Laboratory decided to hold a Kodomo-Shokudo event using food ingredients from Mizumasari, assisted by staff running another Kodomo-Shokudo in Setagaya. Setagaya also intends to establish more Kodomo-Shokudos in its area, so, we made the main purposes of the event to publicize the Shokudo to many people and give them a chance to try it.
One-Day Kodomo-Shokudo Opens
The Edahiro Laboratory started planning and preparing for the event in January this year. After participating in several Kodomo-Shokudo events in Setagaya and other areas, the lab students developed a plan based on their actual experiences. During the event, almost all of the students participated, running the event and taking charge of the assigned tasks they had planned.
On the day of the event, 10 participants from Mizumasari and other parts of distant Kumamoto arrived by air, smiling and saying "It's been a while since we've visited Tokyo." The core members of the cooking team for the event were seven volunteers from the Otoko-no-Daidokoro (meaning "men's kitchen") circle, an active group in Setagaya with more than 300 post-retirement members who enjoy studying and practicing the art of cooking. They fascinated and charmed us with their uniform apron style and proficient use of knives. The Mizumasari villagers and some of the students joined with the cooking team and everyone set to work.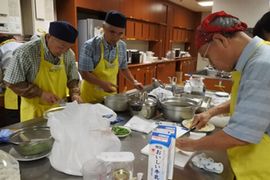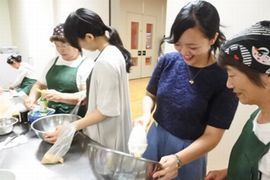 While the cooking team was busy working, the "Adults' Cafeteria" opened for service at 4:00 pm. The host gave an opening address and introduced the community of Mizumasari to reporters and other guests. Then everyone dug in heartily to all the delicious dishes and chiffon cake, the ingredients of which all came from Mizumasari, while chatting in a relaxed atmosphere.
Children began to show up one by one, so the students manning the reception and the event hall worked harder. The special dining program, Kodomo-Shokudo, was held in the Carrot Tower building in Setagaya, which has lots of space and cooking facilities. Many mothers joined the event with their children. They had learned of it for the first time via social network services or local bulletin boards, thought the event looked interesting and decided to come. In all, 25 children and 21 parents participated, filling the cafeteria.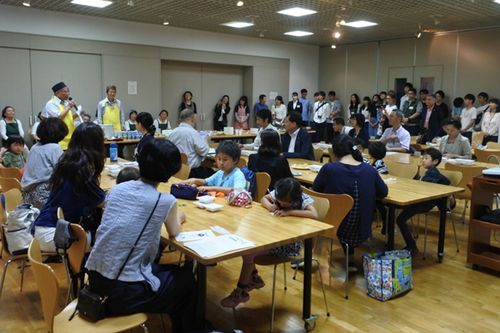 The food was ready by around 5:30 pm, and the evening program was kicked off by the organizer's words of compliments. Later, the students presented donated funds to the Mizumasari residents. The earthquake in Kumamoto Prefecture in April 2016, hit Mizumasari as well, destroying one house completely and another one partially. To support the people of Mizumasari, who had welcomed students in September 2015, the students collected donations at a college festival held in early June 2016 by receiving rice and vegetables from the community and selling them. The donations amounted to 100,000 yen (about US$950), and were given to the Mizumasari residents.
After the opening address, Mizumasari residents introduced their local foodstuffs, and members of the Otoko-no-Daidokoro team presented the menu for the evening. After the participants took photos together, they started eating. They were all amazed by the tasty dishes.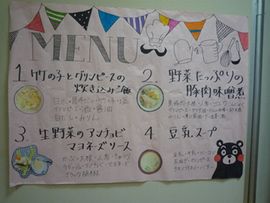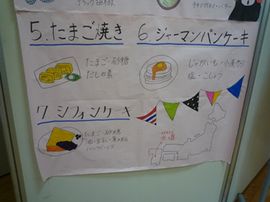 Menu


- Bamboo Sprouts and Green Peas Pilaf -- rice grown in Mizumasari was selected for "Japan's Best 100 terraced paddy fields"

- Pork and Vegetables Cooked with Miso -- a typical Kyushu dish, with miso made from Hattengu soybeans, indigenous to Mizumasari

- Fresh Vegetables with Anchovy and Mayonnaise Sauce -- vegetables from Kumamoto



- Hattengu Soymilk Soup





- Rolled Omelet using cage-free eggs





- German Pancakes -- using potatoes from Mizumasari





- Chicken Soup -- a traditional dish of Mizumasari





- Cooked Mountain Vegetables




- Cooked Hattengu Soybeans





- Hattengu Soymilk Chiffon Cake with Homemade Blueberry Jam




After they finished eating, the children enthusiastically joined in card games and other fun activities led by the students. At the same time, their mothers enjoyed eating and talking in a relaxing atmosphere. "My child didn't like the rolled omelet, but he says he liked this one!" "What kind of seasonings do you use for these dishes?" The mothers enjoyed conversing throughout the evening.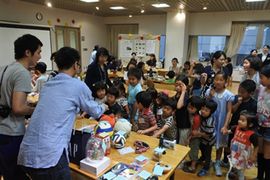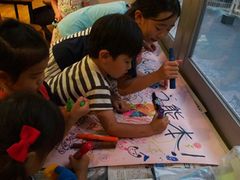 Setagaya mayor Nobuto Hosaka joined the dinner after his work finished at the city office. After eating, he talked about how he liked the event. At the end of the program, participants filled in questionnaires before leaving. Their feedback included "We want to join the event again," "We had a lot of fun," and "We should have more places like this where people can enjoy eating and talking with others." The cooking team and the hall staff cleaned the room, winding up the event. Afterwards, the students and Mizumasari residents gathered at a nearby diner to enjoy a reunion, having not seen each other in quite a while.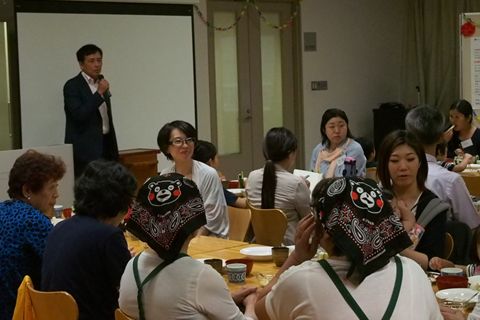 Mizumasari resident Araki spoke at the dinner table. "We are over 70 years old on average, but we are determined to work on our farms a few more years. We hope to create a community to which our children and grandchildren will enjoy coming home and people will gather from bigger towns. Please come and stay in our village sometime."
Akiko Mitsuoka, representative of the NPO Setagaya Welfare Support Center, who jointly organized the program, said, "Setagaya Kodomo-Shokudo and Mizumasari enjoyed this opportunity to work together this time with the help of Tokyo City University as a go-between. Though it was the first experience for everyone concerned at holding an event like this, I was impressed by the friendly atmosphere everywhere. We shared the same thoughts and aims, and I realized we now need to create communities in which people feel comfortable living and relationships are valued. Using this opportunity, I hope we can expand our wave of exchanges by sharing our advantages, and cooperate to solve problems and achieve goals."
Junichi Natori, who heads the group, reflected on this event, saying, "It is important that there be interactions between urban and rural areas. In this respect, this event hit the target. It is also wonderful for children to have fresh agricultural products. I could talk to people from the community while cooking, and I was impressed with their nice personalities. I felt I would like to visit them if I have a chance."
Awareness of Issues and Future Challenges
A prevalent conception of the relationship between urban and rural areas in Japan has been that urban areas support rural ones. Instead, we would like to explore the opposite possibility, that rural areas will support urban ones. Therefore, we planned the event as a social experiment in revitalizing rural areas to explore possibilities for this new relationship.
Under this conventional model, it was frequently a "take-and-take" relationship from rural areas' perspectives. Rural areas desperately needed support such as grants and subsidies from the national government. Actually, this is still more or less the reality in rural areas, as they are still economically unsustainable without a certain allocation of tax revenues from the national government.
Against the backdrop of this "take-and-take" relationship, "take-and-give" cases are emerging little by little. Nowadays, numerous municipalities have adopted a "hometown tax" scheme, calling for funding for rural areas from people who live in urban areas. This is conducted under a variety of terms, such as asking people pay a hometown tax to the municipality, which in turn would send them local specialties, for example. The basis of the scheme is, "If you can contribute, we will give you something in return."
Note: the JFS newsletter will describe the hometown tax in detail in a coming issue.
In this respect, Mizumasari's initiative might be simply "giving." They just add their wishes, "We would like children in Tokyo and everyone else to enjoy rich, fresh agricultural products of Mizumasari," and "We will be glad if you could visit us someday." In the Japanese context of the relationship between urban and rural areas, marginal communities like Mizumasari are usually supported by the national government. I believe, however, an important approach to relationships is not to start from a position of "taking."
I have worked with people in rural areas, such as by helping them revitalize their areas and covering their efforts in articles. Among these cases, I have found certain things in common among communities whose efforts were going very well.
One of their good points is their spirit and efforts to stand on their own, not relying on others for help. To achieve that, they try to reduce their dependence on various external factors including resources such as food and energy. As a result, I find they have pride and a spirit of independence, which is another good point. They say, "We take control by ourselves. We decide what we need in our community." Mizumasari is one such community.
Looking ahead, my biggest concern is revitalizing Tokyo. Nowadays, it is feared that many impoverished rural areas will eventually decline, but issues concerning urban areas will become more serious later on. Tokyo will manage somehow to get by until the 2020 Tokyo Olympic Games. After this festive mood ends in 2020, the entire mood in Tokyo is expected to slump. In addition, it is estimated that the population of Tokyo will age far more rapidly than that in rural areas.
How to sustain, rejuvenate and revitalize urban areas, especially Tokyo, is a critically important challenge. People living in urban areas like myself need to learn from successful rural areas which make good efforts to revitalize their communities.
This Kodomo-Shokudo was held as a cross-generational event -- encompassing residents of a community with an average age of 72, post-retirement male chefs, mothers of child-rearing age, young university students and kindergarten and elementary school children. How to create cross-generational collaboration opportunities like this and make them sustainable will be an issue to consider subsequently.
This Kodomo-Shokudo was a one-time event, but the conversations among the people who gathered are spreading: "Taking this opportunity, it would be great if children in Setagaya could visit Mizumasari during summer vacation." "It would be wonderful if we retired men could visit Mizumasari to find good ingredients for our cooking." This will lead to new developments.
At my lab, I would like to support many rural areas by passing this experience along widely in a mode that other people can adopt and organize on their own, such as by connecting other universities with other rural areas, other urban cities with other places and so on.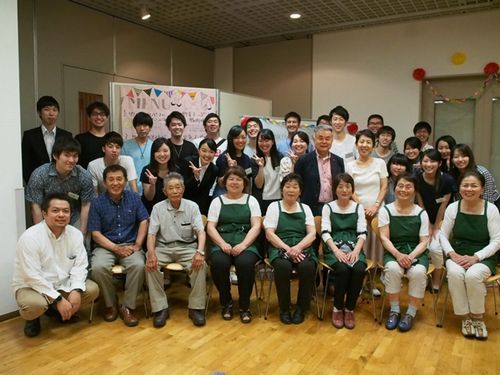 Written by Junko Edahiro
Photos provided by e's Inc. All rights reserved.