JFS Newsletter No.164 (April 2016)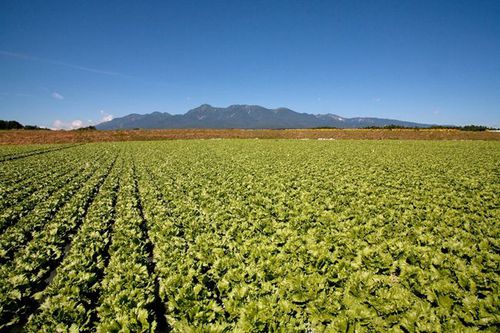 Copyright Kawakami Village All Rights Reserved.
Kawakami in the Minamisaku district of Nagano Prefecture in central Japan is an agricultural village with a population of about 4,500, at an elevation of about 1,200 meters above sea level, surrounded by mountains on all four sides. The average yearly temperature there is 8.5 degrees Celsius (about 47.3 degrees F), comparable to the 9.8 degrees C (about 49.6 degrees F) in Hokkaido, northern Japan.
In the early days, it was such an impoverished desolate area, that in his Chikuma River Sketches*1), the famous Japanese poet/author Toson Shimazaki (1872-1943) once noted, "Further up along the river, there's a village called Kawakami Yatsuga-mura. One of the most remote areas in the mountains of Shinshu, so poor and desolate that only the sick ever get a chance to eat white rice." The village, however, has changed from a desolate spot to a prosperous village with farmland boundlessly spreading out. This month's JFS newsletter will report on the agricultural efforts and achievements of Kawakami.
*1) cited from http://www.soumu.go.jp/main_content/000336010.pdf
Agriculture Flourishing in Kawakami
The impetus for Kawakami's transformation into its current state dates back to 1950, when the village began cultivating lettuce, which is suited to a cold climate like Kawakami's. At that time, people's eating habits in Japan were undergoing major changes and lettuce was becoming a popular part of the diet, giving a further boost to Kawakami's lettuce farming. Even now, lettuce is Kawakami's main crop.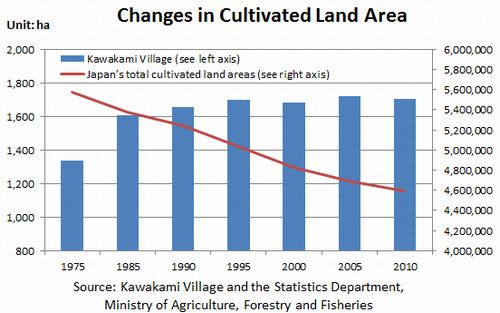 Japanese agriculture faces issues with diminishing farmland area owing to decreasing numbers of farmers sustaining local agriculture. This is an emerging problem in many parts of Japan. In Kawakami, however, the farmland area is stable. The aging of farmers is another issue besetting Japanese agriculture. Data on age-specific ratios of principal farm operators in Kawakami show those under 50 years of age accounting for 37.6 percent of the total, meaning the younger generations constitute a major force compared to the national average.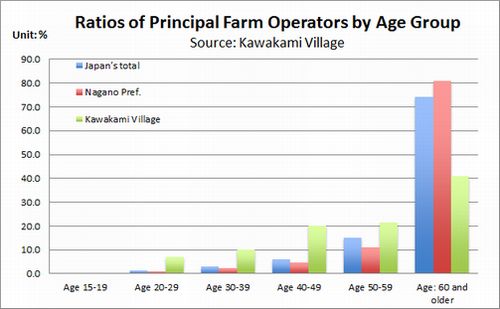 The village is also gaining attention for its residents' income. In 2007, the village's total sales of highland vegetables came to 15.5 billion yen (about US$13.8 million). The number of farms in the village was 607. Thus the calculated average income per farm was about 25 million yen (about US$223 thousand). National data are calculated according to different methods, so no figures could be obtained for direct comparison, but the agricultural gross income per farm in Japan is said to be about 8 million yen (about US$71.4 thousand) on average. ("Agricultural gross income" consists of major sales income, the value of by-products and self-produced food consumed at home and other farm receipts.)
Kawakami's Agricultural Endeavors
Kawakami has become noted for such figures. The key person leading the challenge in recent years has been the village's mayor, Tadahiko Fujiwara. An eight-term mayor, Fujiwara has held the position for 27 years. Under his leadership, people's livelihoods in the village have been supported by efforts that prioritize agriculture and life, promoting community activities that the village people have participated in for many years.
Use of Cable TV Helps Agriculture with Real-Time Information
Those efforts include village-run cable television broadcasting. Kawakami has been providing flash reports on vegetable market trends and weather conditions for nearly 30 years, useful information for farmers.
For vegetable farmers, the market rate is an important factor in controlling delivery volume, so the village installed a cable television network for efficient provision of each day's market trends. It has contributed to higher profitability in the vegetable market because the farmers can change delivery destinations even when shipments are already out on the expressway.
Because of differences in altitude throughout the village, meteorological conditions are not uniform but vary from place to place. The village, therefore, placed weather robots at several points to give people information on air temperature, soil temperature, rainfall levels, etc., area by area on a real-time basis via cable television. This technology enables the village to take effective measures against frost, as they can predict if there will be frost the following day by checking the temperature at six o'clock in the evening. The robots also provide weather forecasts 24 hours ahead, so farmers can prepare waterproof cardboard to protect vegetables from rain. With meteorological data stored in computers at the village office and agricultural cooperatives, farming management training is also available, fully utilizing the data.
In this way, Kawakami has engaged in efficient farming from early on using the advantages of information.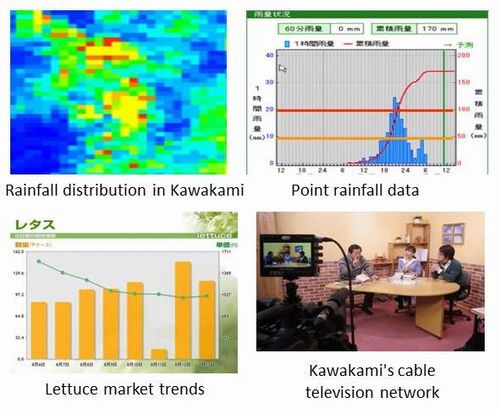 Copyright Kawakami Village All Rights Reserved.
Farming Opens Up International Exchanges
Kawakami aims to have as many of its residents as possible gain experience overseas. Its first opportunity for international exchange was actually spurred by agriculture. A group of people launched a study tour to the US, a country with advanced lettuce cultivation. The exchange program progressed and now the village is developing new lettuce in collaboration with a biological research center at the University of California, Davis, in the US.
This is not the village's only interaction with foreign nations. Kawakami has also formed a sister-city partnership with the city of Watsonville, California, where vegetable farming is a major industry. Junior high school students in Kawakami and Watsonville visit each other in turn, alternating the host venue each year, and interact through various programs including homestays. This exchange program has been going on for 27 years.
The village also promotes overseas study tours for women. Fujiwara says that more than 100 women have visited foreign countries that way. In 2013 when the village organized a tour to Europe, they visited four countries--Germany, the Netherlands, Belgium and France--in 10 days, and observed local facilities, including welfare institutions. The plans are usually made by the tour participants.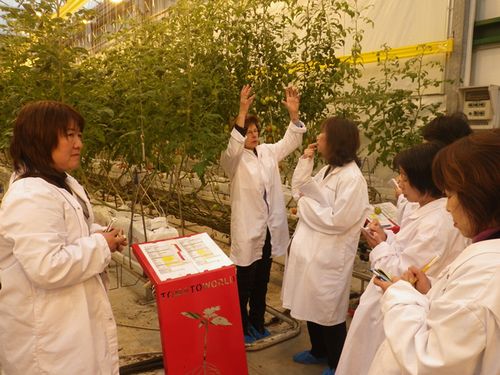 Copyright Kawakami Village All Rights Reserved.
In order to revitalize rural communities, it is often said to be essential to adapt ideas from outside the community. International exchange programs in Kawakami play an outstanding role with respect to adopting external ideas as well as training for the village's human resources.
Cultural Activities during the Agricultural Off-Season
Summer is the lettuce harvest season, so the agricultural off-season runs from October to the following spring in Kawakami. The Kawakami Village Culture Center opened in 1995 as a public facility for local residents to enjoy during the off-season. It has an event hall with a capacity of 500 people, a theater, a museum and a library with 50,000 books. Even after hours, users can access part of the library 24 hours a day by obtaining a user card to borrow books and CDs on their own.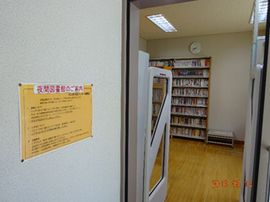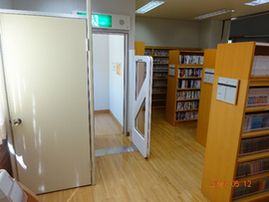 Copyright Kawakami Village All Rights Reserved.
Additionally, residents play a key role in Kawakami's cultural activities. They organize events for watching concerts, staging plays and enjoying fireworks. This abundant variety of cultural events is one of the factors boosting the village's appeal.
Another public facility in the village features healthcare services, including the village's health and welfare division, a fitness training room, a public bath and an acupuncture clinic. The clinic opened to help farmers who develop back pain from their work in the lettuce fields.
Kawakami Values Agriculture and People
As described above, the efforts in Kawakami place the highest value on people while promoting agriculture. Efficient lettuce farming is supported by information on market trends and weather conditions. New technology and ideas gained through international exchange have contributed to lettuce farming as well. Agriculture constitutes the fundamental industry in Kawakami, so these efforts are producing a significant outcome.
International exchange and the variety of cultural activities are the factors attracting people to the village. With agriculture as its industrial base, present day Kawakami is supported by efforts to boost well-being in its residents' lives.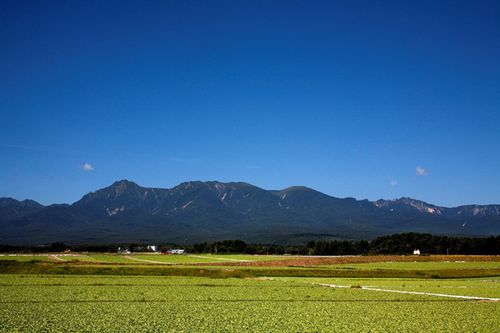 Copyright Kawakami Village All Rights Reserved.

Written by Naoko Niitsu