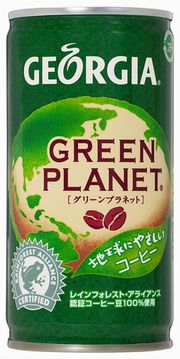 Copyright Coca-Cola Japan Co.

Leading nonalcoholic beverage group the Coca-Cola system in Japan (hereafter Coca-Cola) announced on November 1, 2010, that from November 2, 2010, it would team up with Lawson, Inc., a leading Japanese convenience store chain, to sell about 3 million cans of Ready-to-Drink (RTD) coffee named Georgia Green Planet that use carbon dioxide emission credits. By purchasing any one of the Georgia Green Planet coffees exclusively offered at Lawson stores across Japan, consumers can help offset 500 grams of CO2. The project aims to offset about 1,500 tons of CO2.
Georgia Green Planet is made of 100 percent coffee beans certified by the Rainforest Alliance for meeting its environmental conservation standards. As with Real Energy, an energy drink Coca-Cola launched on July 6, 2010, the two companies will bear the cost of acquiring emission credits created by biomass power generation in Brazil, and transfer those credits to Japan's depreciation account on behalf of consumers. This process will help Japan achieve its emissions reduction target under the Kyoto Protocol. In 2010, Coca-Cola and Lawson contributed to the reduction of 1,713 tons of CO2 through Real Energy sales.
To enhance consumer awareness of global warming, Coca-Cola and Lawson also launched a special website, "Nonde Eco" (Japanese for "Drink and Live Green", see Note), through which they will report the amount of carbon offsets achieved in the project every week. In a similar project in 2009, they offset about 4,618 tons of CO2.
Note: PC: http://www.nonde-eco.jp/
mobile: http://www.cocacola.co.jp/i/csr/
Coca-Cola Installs Vending Machines with Living Green Tops (Related JFS article)
http://www.japanfs.org/en/pages/030468.html
Posted: 2011/03/26 06:00:15 AM