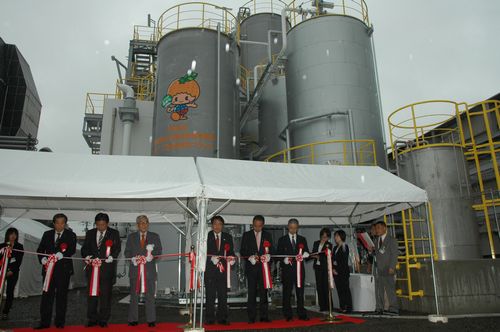 Copyright Ehime Prefecture
A pilot plant for manufacturing bioethanol fuel from the residue from tangerine juice production was completed on October 25, 2010, at the Matsuyama Factory of Ehime Beverage Inc., a manufacturer of citrus juice.
The technology for manufacturing bioethanol from tangerines was jointly developed by Ehime Prefecture, Ehime University, and Ehime Beverage Inc., and was subsidized by the Ministry of the Environment as one of the numerous projects it is supporting to develop technologies to mitigate global warming. The plant is the first attempt of its kind in the nation. Distillation towers and 18-meter-high fermenting vessels were constructed on the premises of the factory, where one hundred cubic meters of liquid squeezed from the residue of tangerine juice manufacturing can produce five kiloliters of ethanol. Using this amount of ethanol as car fuel offsets 6.4 tons of carbon dioxide (CO2) emissions that would result from using the same amount of gasoline.
Test manufacturing is scheduled from mid-November 2010 through February 2011, during which time bioethanol for car fuel will be analyzed and evaluated at an external laboratory. The product is also being considered for use as fuel in public vehicles and as a raw material in cosmetics. At the completion ceremony, Moriyuki Kato, the governor of Ehime Prefecture, and other leaders cut the tape in front of the plant.
Ehime Prefecture to Manufacture Biofuel from Residue of Tangerine Juice Production (Related JFS article)
http://www.japanfs.org/en/pages/030162.html
Posted: 2011/03/06 06:00:15 AM