JFS Newsletter No.178 (June 2017)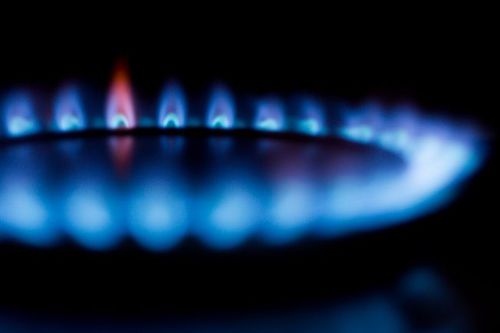 Image by Pexels.
Efforts to shift to circular economies (regenerative economic systems) are accelerating globally in response to resource depletion and the increasing need to reduce waste and carbon dioxide emissions.
One of the various approaches to create a circular economy is to introduce a business model known as "Product as a Service (PaaS), which promotes the business concept of selling services, rather than products.
For example, an electric drill is often found in the household toolkit in the United States as it is a common do-it-yourself tool. One study found that total time a typical drill was actually used for drilling averaged around 30 minutes during its lifetime. In this case, a key question is whether people want the drill itself, or whether they want a hole. Unless they are drill collectors, the typical answer would probably be that they want a hole. If so, the business model to sell not drills but a service to drill holes would be feasible. Car-sharing, a business that is growing in popularity globally in recent years, is a business model of this kind. Its concept is to sell not the car itself but the "mobility" provided by the car.
This business model was introduced by one Japanese company 16 years ago, and since then it has been pursuing the approach of selling a service, not a product. Here, we introduce the company, its achievements, and how effectively the business model has worked.
New Business Model Launched in 2001: "We Don't Sell Products"
Nihonkai Gas. Co., based in Toyama City, Toyama Prefecture, is a utility company providing natural and liquefied petroleum gas to Toyama and Ishikawa prefectures in Japan. The company was founded in 1942 and is capitalized at 679.5 million yen (about US$6 million). Its net sales in 2016 were 16.2 billion yen (about US$144 million), and it had 273 employees as of April 2017.
The company's main business is to produce, supply and sell liquefied natural gas (LNG), liquefied petroleum gas (LPG), and other high-pressure gases. Other than that, it is active in a broad range of business areas include manufacturing, selling and renting gas appliances; designing, constructing and managing building, public engineering and piping projects; and also producing, selling, repairing and renting devices for air-conditioning, cooling and heating systems, commercial kitchens, bathtubs, toilets, and more. The company also sells fan heaters as one of its gas appliance products.
Around the year 2000, I spoke with Mr. Hachiro Nitta, president of the company, who I knew personally. At that time I introduced him to the business style of Interface, Inc., a carpet company based in the U.S., and told him that the company had drastically transformed its business model from only selling carpets to "offering comfort and relaxation through the use of carpets." I mentioned that the company had launched a new model based on leasing contracts, in which it leases carpets, then collects and thoroughly recycles the used carpets. Through this approach, the company has succeeded in both growing its business and reducing its environmental impacts. After a while, Nihonkai Gas started a new service to rent fan heaters (natural gas heaters that use a fan to blow the air for room heating). Their message was, "What our customers want is heat, not heaters. We will offer our customers the option of renting heaters in the winter season so they don't have to buy them and have them be useless during the summer season."
JFS covered the company's business approach in September 2002 as follows:
http://www.japanfs.org/en/news/archives/news_id025088.html
Nihonkai Gas. Co., Ltd., based in Toyama Prefecture, Japan sells gas as well as gas appliances, including cooking ranges and fan heaters. But in the winter of 2001 they started a service to rent fan heaters, on the grounds that what their customers want is heat, not heaters.



The rental fee is 3,000 yen (about U.S$25 dollars) for one season. In their first year of service, all 150 units for rental were fully booked immediately. Due to the high demand, the company eventually rented out more than 200 units. It is reported that more than 90 percent of these customers placed reservations to continue the use of the service for the next season when the company collected the fan heaters in the spring.



When the weather warms in the spring and heating is no longer needed, the company takes back the fan heaters and stores them in its warehouse, after technicians have completed maintenance. It is thought that this thorough maintenance will prolong the working life of fan heaters longer than if kept at home, making this rental business profitable even at the seasonal fee of 3,000 yen. The company claims that their customers are happy with this service, and that the longer life of the fan heaters can help reduce waste and the amount of resources used. This approach could create a win-win-win situation for everyone involved--the customers, the company and the Earth--by focusing on function, rather than on the product itself.
Achievements and Value Added Through the "We Sell Services, Not Products" Business Model
It has been nearly 16 years since the rental service started. I asked Mr. Nitta again about the aims of the business as well as its achievements and outcomes to date. Here is the reply.
---
We launched the gas fan heater rental service in September 2001. The major purpose of the service was to meet diversifying customer needs. The business is based on three objectives.
First, we wanted to shift from the concept of "selling products" to "selling services." Customers who live in apartment buildings usually have a problem with limited storage space for seasonal-use items. We provide the storage space for these customers. People who relocate often for work also want to avoid having too many possessions, so through our rental service they can enjoy having a good heater without increasing the number of things they own.
Also, many users, especially the elderly, do not want to be bothered by having to maintain their heaters. Without proper care, gas equipment is likely to have shorter life, which is unfavorable environmentally. With the rental business, maintenance of the equipment can be handled by our company. This leads to more satisfied users and more efficient use of resources.
Our second objective is to build our customer base of gas users. If renting is an option, users can easily try the equipment before the purchase. For those who want to use gas fan heaters but are worried about the cost of gas, we can offer a trial use and let them experience the performance and the cost in their daily life.
Third, we want to promote gas heating. Excluding areas where city gas is available, kerosene is widely used in Toyama Prefecture, accounting for 70 percent of hot-water supply and 90 percent of room heating, and in fact, both kerosene and equipment for it are cheap. We focus on this rental service as a first step for users to experience natural gas instead of kerosene heaters, which emit more carbon dioxide.
The rental period of our heaters is when heating is needed, from October to the end of April the following year. We start taking orders in September and delivering heaters to users from the beginning of October, and then take them back in May. We rent the heaters at a fixed rate, then collect, clean and store them when the season is over.
The rental service cost is very reasonable and charged per season at 3,000 yen (about US$27, tax included) for a heater used in a room of about 14-18 square meters, and 4,500 yen (about US$40, tax included) for a room of about 18-22 square meters.
Customer feedback has been positive: "No need for storage space." "No initial cost." "Fuss-free because this service covers the whole process of delivery, installation and take back." "This is convenient as the service replaces any faulty heaters for free." and "I always feel safe about using the heater thanks to the maintenance service by the gas company."
The main types of users are workers living alone away from home, families that have been relocated for work, residents of housing complexes or housing for government workers, seniors, and so on. We have been providing this service for 15 years and have a high ratio of repeat customers, as they are attracted to the services of delivery and collection, cleaning and maintenance.
As shown in the following graph, the number of fan heaters rented has grown steadily and is now about ten times the level in 2001, the launch year of the service.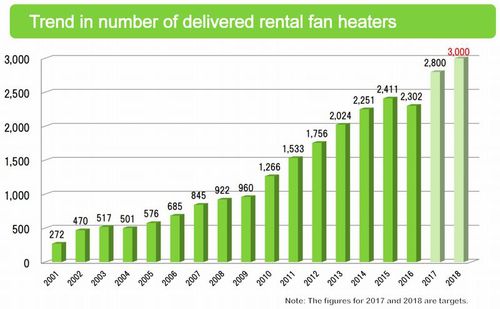 Copyright Nihonkai Gas Co. and JFS All Rights Reserved.
Besides the expected benefits of the rental service, other benefits have also been revealed in these 15 years of efforts.
First, our service has generated employment for senior workers in the maintenance of the heaters when they come back to us after rental.
Second, we make customer visits upon request when installing and taking back the heaters. Visiting our customers gives us a chance to communicate with them, which often leads to further revenues such as new orders for home renovations (kitchen, bathroom, etc.).
Third, as we handle a growing number of heaters with this rental service, all of our staff are involved in some way in installment and take back, so staff not working in the sales department will also have good opportunities to hear directly from our customers.
---
Closing
The Nihonkai Gas heater rental program results in a longer product lifecycle for gas fan heaters thanks to having the maintenance work done by trained personnel, and this helps reduce the resources and energy consumed in manufacturing. At the same time, the company responds to the needs of customers who want warmth during the wintertime, while providing additional benefits for customers such as the elimination of initial purchase cost, the need for them to do maintenance, and the need for storage space for the units in summer. This is a good example of how a new business model can open up business opportunities and have positive impacts for the company both internally and externally.
There are many other initiatives in Japan that are connected with the circular economy. JFS will keep you updated on this topic, so stay tuned for more in the future!

Written by Junko Edahiro