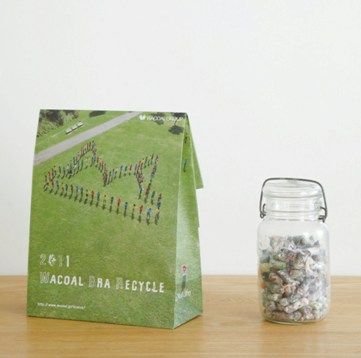 Copyright Wacoal Corp.

Wacoal Corp., Japan's leading underwear manufacturer, announced on November 8, 2010, its 2011 Wacoal Bra Recycling Campaign to be conducted from February 12, Brassiere Day, through April 22, Earth Day, in Japan and Taiwan. Stores participating in the campaign include about 800 stores across Japan, comprising Wacoal's company stores and innerwear specialty stores selling Wacoal products, and about 500 stores in Taiwan, including Wacoal's company stores.
As part of the campaign, the company collects bras that customers no longer use, both those made by Wacoal and those bought at Wacoal group stores, and processes them into recycled plastic fuel (RPF) for industrial use. The customers are encouraged to put disused bras into special collection bags at the stores participating in the campaign.
The collection bags are made of paper produced by a paper manufacturer that uses RPF made from recycled bras as its fuel. Works made by four artists from used bras can also be seen on the website at http://www.wacoal.jp/braeco/.
The company launched its first such campaign in 2008 as an environmental initiative. Since then, the company has collected about 117,300 bras from 29,300 customers and recycled them into 11.73 tons of RPF. According to a survey conducted by the company, 61 percent of women are reluctant to discard bras they no longer wear as garbage; thus, many women favor the campaign because they can discard unwanted bras, while contributing to the environment.
UNIQLO to Recycle and Donate Clothing Year-Round (Related JFS article)
http://www.japanfs.org/en/pages/030018.html
Posted: 2011/03/03 06:00:15 AM