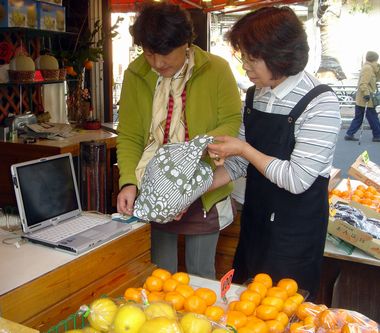 Copyright Toppan Printing Co.

Toppan Printing Co. conducted an experimental project to develop and research a system to revitalize shopping districts through the use of eco-bags with IC tags commissioned by the New Media Development Association in December 2009. The project was carried out at 30 stores out of approximately 140 stores in the Kami-ita Minami-Guchi Ginza Shopping District in Tokyo's Itabashi Ward.
The purpose of this experiment included reducing the use of plastic shopping bags by distributing eco-bags to local shoppers, promoting visits to shopping districts, and testing the development and operation method of a distribution system that circulates points accumulated on the IC tag in the community as a form of local currency.
Toppan distributed free eco-bags with IC tags to 300 shoppers. Those who brought the eco-bag to the participating stores between December 7 and 23 received points by holding the bag out to the IC tag reader/writer which is connected to a PC. Accumulated points are saved on the IC tag, while the PC records the ID of the IC tag as well as the date and time of the store visit.
After December 23, a gift card drawing based on the total points accumulated on the IC tag took place.
IC-Tagged Reusable Container Management System Developed (Related JFS article)
http://www.japanfs.org/en/pages/026536.html
Development and research of system to revitalize shopping districts through the use of eco bags with IC tags
http://www.toppan.co.jp/english/news/newsrelease1015.html
Posted: 2010/02/23 06:00:15 AM