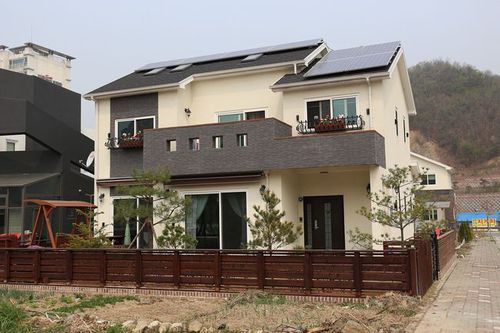 Image by jwco.
A trial for a unique new service to virtually "keep" surplus power temporarily from residential solar panels is starting soon in Japan. It is hoped that the service will make it possible for households to use surplus power from their own solar panels even if they don't have storage batteries.
Japan introduced a feed-in tariff (FIT) scheme several years ago requiring major utilities to pay specified rates to purchase electricity "fed in" to the grid from small producers of renewable energy. The electricity buy-back period for some households will end starting in 2019. In preparation for this situation, there has been much discussion about how to utilize the surplus electricity generated by households that have installed photovoltaic systems, including the use of storage batteries, after the current FIT scheme ends.
In advance of the 2019 issue, TEPCO Energy Partner, Inc. (Toden EP) announced the launch of testing for a new service to "keep" (temporarily store) surplus power from household solar power generation systems. Even houses that have no storage batteries will be able to benefit from this service to make efficient use of their surplus power.
The test is part of the "Next Generation Smart Town Project" conducted through collaboration between Toden EP and Toyota WoodYou Home Co. (Ustunomiya City, Tochigi Prefecture). The project will test this new service focusing on energy and IoT (the Internet of Things) for single-family homes in large developments by residential developer Toyota WoodYou Home, with the aim of eventually commercializing the service. They plan to conduct the verification test on a total of 552 lots in three developments in Tochigi Prefecture.
As part of the project's "Power Keeping Service" (tentative name) households that have installed photovoltaic panels will provide data on their power consumption and generation (for selling) to Toden EP. Analyzing the data, Toden EP will keep track of "unconsumed" surplus power from households and will be deemed to be "keeping" it temporarily. The company will then "return" the power to households when they consume electricity and allow it to be shared with other households. With this service, the aim is to make effective use of surplus power even in households that don't have storage batteries. The trial will test the system design and fee structure.
The trial is planned to run from July 2018 to March 2019, and during this time, smart home devices and special electricity rate plans will be tested.
Source: Smart Japan (in Japanese)