JFS Newsletter No.187 (March 2018)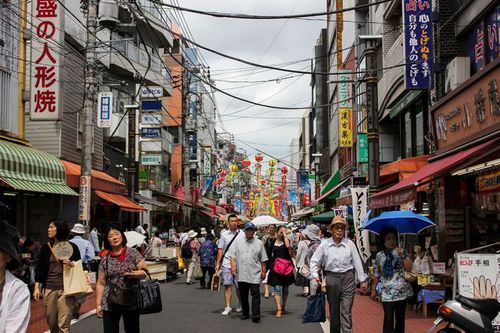 Image by George Alexander Ishida Newman Some Rights Reserved.
In depopulated mountain villages of Japan, it's mostly elderly people who are left behind after the young have moved to urban areas for schools and jobs. This is a scene most Japanese people can easily picture, as they've heard a lot about the aging problem in rural areas.
Recently, however, the aging problem is becoming more and more serious, not only in the countryside, but also in the urban areas to which young people are supposedly migrating. Why is the population aging in the urban areas? In this issue of the JFS Newsletter we report on the aging problem, particularly in Tokyo and the larger metropolitan area.
Aging in Japan
Across Japan, the population is rapidly aging. Figure 1 shows that the proportion of elderly people (65 years old or older) in Japan was only about 5% between 1920 and 1950. After that, during the high economic growth period (from the 1950s to the 1970s), the population began to age, to the point that seniors accounted for 25% of the total population in 2015. That's one in every four people. This trend is likely to continue in the future, so the elderly in Japan are expected to reach 30% of the population in 2025 and nearly 40% in 2055.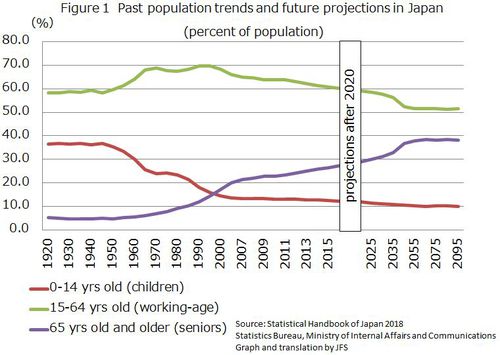 On the other hand, the working-age population (15-64 years old) percent of the total is decreasing significantly. After around 2055, the projection shows that the working-age population will fluctuate around 50% of the total population, the senior population (65 years old and over) around 40%, and the child population (0-14 years old) around 10%.
If Japan was a village of one hundred people, 40 would be seniors and ten would be children. Compare that with 1920 to 1945, when five would have been seniors and 38 would have been children, and you can see the extent of this dramatic change.
The rapid pace of aging in Japan stands out when compared with western nations. In France, it took 115 years (from 1864 to 1979) for the proportion of seniors 65 or over to go from 7% to 14%. For Sweden, it took 85 years (1887 to 1972), and for Germany, 40 years (1932 to 1972). In Japan, the ratio of seniors doubled from 7% to 14% in just 24 years (1970 to 1994). (Figure 2.) Japanese society must respond promptly to the rapid pace of aging.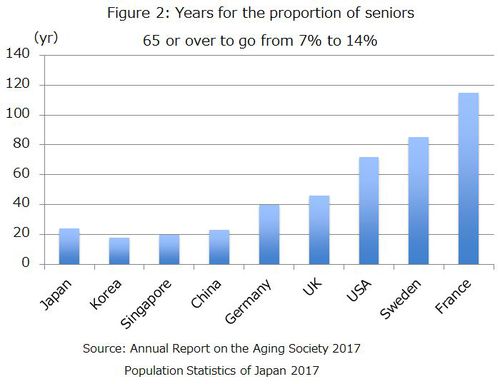 Aging in Japan's Metropolitan Areas
Looking more closely, the population is not aging uniformly across Japan. Certain patterns are unique to the major urban centers compared to the rest of the country.
Table 1 shows the actual and projected increases in the ratios and numbers of seniors in the Greater Tokyo Area (above the double line), compared with Okinawa Prefecture (southernmost prefecture in Japan) and Akita Prefecture (northern Japan, said to be the fastest aging rate in the country). Akita and Okinawa had the highest and lowest ratios of seniors in Japan in 2015, respectively.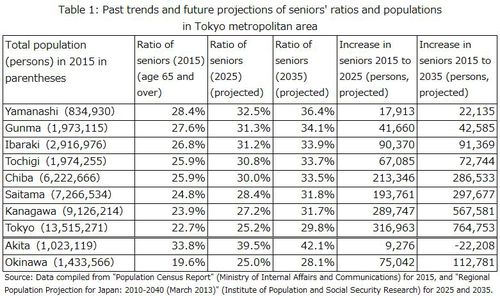 Looking at the trends in seniors' ratios by prefecture for 2015, 2025 and 2035 (left-hand columns in Table 1), every prefecture will see an increase in the seniors' ratio compared to today. The ratio of seniors in Akita Prefecture is expected to be a surprising 42.1% in 2035, which indicates how significant the aging of the population outside the major metropolitan areas will be. In comparison, the projected seniors' ratio for Tokyo in 2035 is 29.8%, which is still lower than Akita's 33.8% in 2015. From that, one might conclude that Tokyo's problem is manageable. But let's look deeper.
Now let's direct our attention to the numbers of seniors, rather than the ratios. In the right-hand columns of Table 1, see "Increase in seniors 2015 to 2025 (projected)" and "Increased in seniors 2015 to 2035 (projected)." In Akita, the number of seniors is projected to increase by about 10,000 from 2015 to 2025. However, the total population in Akita in 2035 is expected to contract to about 75% of the 2015 population, and the actual number of seniors in 2035 is expected to be about 20,000 lower than in 2015.
In contrast, the population of seniors in Tokyo is expected to increase by about 300,000 from 2015 to 2025, or by more than a whopping 750,000 from 2015 to 2035. (The total population of Tokyo in 2035 is projected to decline to about 95% of the 2015 population.)
To understand the differences in absolute numbers, consider that in Akita the seniors' ratio of the population is expected to grow by about 6 percentage points from 2015 to 2025, which means an increase of just over 9,000 seniors. Meanwhile, in Tokyo, even though the ratio will grow by only 2.5 percentage points, this still means an increase of over 300,000 seniors. The large population of Tokyo means that for every percentage point increase in the seniors' ratio, the actual increase in the number of people is much larger than in Akita.
The following graph shows the dramatic increase in the number of seniors in Tokyo and the nearby prefectures. Figure 3 shows the increases in the numbers of seniors based on data in Table 1. The increase in seniors in Tokyo from 2015 to 2035 is huge. Prefectures neighboring Tokyo (23 wards), such as Kanagawa, Saitama, and Chiba Prefectures, also see significant increases. The increase in the seniors' population (aged 65 and older) in Kanagawa, just south of Tokyo, is projected to be 550,000 from 2015 to 2035.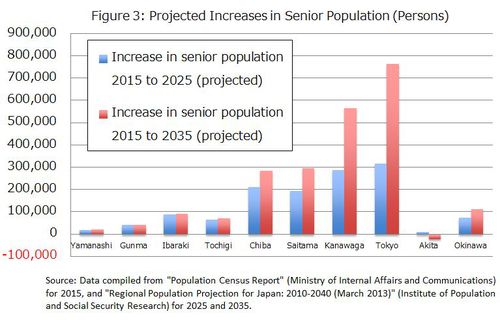 Among the big concerns about such large increases in the numbers of elderly people is the likely shortage of hospitals and housing of the elderly. At first glance some people might think that Tokyo is well served, with many hospitals compared to communities away from the metropolitan area. But look at the number of hospital beds per 100,000 people. Kochi Prefecture ranks at the top, with 2,522.4 beds per 100,000 people, compared to 948.3 in Tokyo, 943.3 in Chiba, 853.8 in Saitama, and 810.5 in Kanagawa. The Tokyo region actually has some of the worst hospital bed ratios in Japan. (Source: "Survey on Medical Facilities (Dynamic), Summary of Hospital Report (2015)" by the Ministry of Health, Labour and Welfare.)
In Tokyo, the population itself is not expected to decrease much from 2015 to 2035. However, if the number of seniors increases, the number of people hospitalized will also likely increase. Thus, the lack of hospitals in the Tokyo metropolitan area is expected to become an increasingly serious concern.
Shortages of caregivers and home-care nurses can also be expected. Consider cases when rehabilitation is needed to recover from a disease or an accident. With professional support and proper rehabilitation, people could more likely return to their lives. But if there is a shortage of professionals, patients may not be able to get rehabilitation support and end up being bedridden long term. If that happens, more and more hospitals and home care nurses will be needed.
Furthermore, an increase is expected in the number of households with a senior living alone or with the head of the household being aged 65 or older. These groups are expected to rise from about 30% of all households in 2015 to about 35% in 2025. When the elderly population increases in the future, issues like dying alone and "elderly care by the elderly" are likely to become prevalent.
As one would expect, the Tokyo Metropolitan Government (TMG) has already embarked on measures to address the challenges. According to a Comprehensive Strategy announced in 2015, it is going to promote "measures for realizing local communities in which the residents can lead their lives with peace of mind until their last moment." The strategy mentions various measures, such as introducing nursing care equipment with robot technology and other tools for care and prevention, easing the work load of caregivers, and improving of the quality of nursing care.
The Comprehensive Strategy also mentions that by the end of fiscal 2025, the TMG plans to provide additional intensive-care seniors' housing for 60,000 people, health-care facilities with nursing care for 30,000 seniors, and group homes for 20,000 seniors with dementia, plus 28,000 units of housing with services for seniors. For the latter, the total number of residents will vary depending on whether each unit is inhabited by a single person or two or more, so the total new housing provided in this plan is for more than 140,000 seniors. (Housing with services refers to housing offered by private operators who are required, in principle, to offer safety confirmation and wellbeing consultation services, for persons aged 60 and over. Basically this category is aimed at seniors who do not yet need nursing care, but the services the residents can get may vary significantly among facilities.)
As mentioned, Tokyo's senior population is expected to reach some 300,000 people in 2025. Given the government's plan, if all of these people hope to move to seniors' housing, this translates into a shortage of seniors' housing for about 140,000 people, and after 2025, the shortage will likely be even larger. Nevertheless, if the plan is realized, it is still expected to have a substantial impact.
In Japan's major urban areas, a rapid increase in the senior population is expected to bring serious challenges in the future, including shortages of facilities and caregivers for seniors. Despite these projections, the issue of aging in urban areas has not really drawn the attention the warrants. Japanese society needs to deal with a wide range of aging issues, each with different characteristics, not the least of which is the different challenges facing big cities versus rural areas. JFS will continue to cover the topic of the aging of society and implications for sustainability, and we hope that this material will trigger awareness and ideas in countries around the world that may be at various stages along a similar path.

Written by Naoko Niitsu