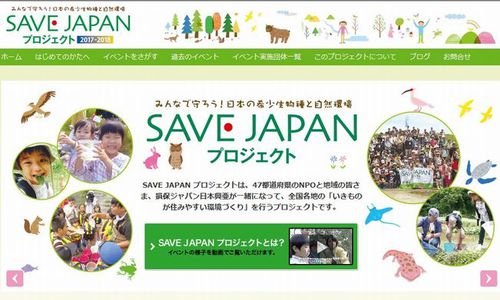 SAVE JAPAN Project website.
The SAVE JAPAN Project of the Sompo Japan Nipponkoa Insurance Inc. was recognized with the Chairman's Award of the Ecological Life and Culture Organization on November 20, 2017, at the FY2017 Activity Awards for Creating a Sustainable Society in recognition of its excellent efforts at working toward a sustainable society.
The project, started in 2011 by Sompo Japan aims at creating ideal habitats for living things by implementing community-participation-based biodiversity conservation activities in cooperation with environmental non-profit organizations (NPOs) and NPO support centers throughout Japan.
Various biodiversity conservation events have been held all over Japan, and were tailored to each region. The event activities included ocean and mountain clean-up days, planting of endangered plants, aiding of wild animals, and observation of endemic species. A total of 725 events attended by a total of 36,645 participants were held between April 2011 and the end of September 2017.
The Ecological Life and Cultural Organization started this award program in 2016 with the support of the Ministry of the Environment. The awards are given to companies and organizations which implement initiatives that contribute toward a sustainable society which integrates the environment, economy and society.