JFS Newsletter No.183 (November 2017)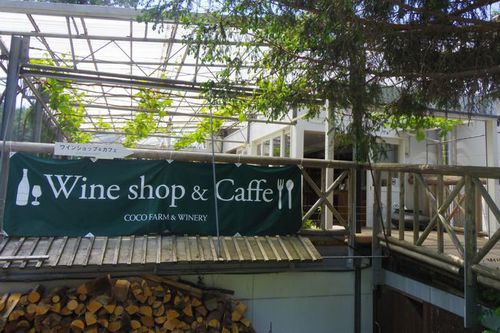 Coco Farm & Winery
Photo by so-oh Some Rights Reserved.
Vineyards cover a steep slope in Ashikaga, Tochigi Prefecture. The land was originally cleared by Noboru Kawata, then a junior high school teacher for special needs education, and his students. Cocoromi Gakuen, an institution for intellectually-challenged students, is located at the base of this slope. Supportive of Kawata's cause, families of Cocoromi Gakuen students established a private limited company in 1980 to produce wine together with these students. The company aims to help create a society in which everyone, including persons with disabilities, can live life to their fullest potential.
How far can job assistance for people with disabilities evolve in terms of business and industry, products and services, and ties with communities? This month's JFS Newsletter introduces the initiatives to work with intellectually challenged people and produce wine, based on an interview with Chieko Ikegami, who is executive director of the social welfare corporation Cocoromirukai and also executive director of Coco Farm & Winery, and Rieko Ushikubo, secretary-general of Cocoromirukai and chief operating officer of Coco Farm & Winery. This interview was conducted on March 30, 2017 for the SBN "Interviews with 100 Social Entrepreneurs" series. The content was rearranged and edited by JFS for this issue.*
*"Interviews with 100 Japanese Social Entrepreneurs" is a series of interactive lectures that provide social entrepreneurs with opportunities to learn from their forerunners. The lectures have been held approximately once a month since June 2012 by the Social Business Network (SBN) and International Institute for Human, Organization and the Earth (IIHOE).
---
Developing Children's Abilities through Agricultural Work
In the 1950s, Noboru Kawata became a teacher for special needs students at a junior high school in Ashikaga, Tochigi Prefecture. In those days, children with disabilities were often seen as pitiful and raised in an overprotective environment. As a result, they tended to be fragile, spoiled and irritable. Kawata thought that these children would be suited for agriculture, which requires a lot of activity all year round, and looked for farmland. Since flat land was expensive, he bought a steep-sloped lot which faces the southwest, believing that the afternoon sun in summer would be good for farming.
On steep slopes like these, it was impossible to use heavy farming equipment. Kawata and his students had to start clearing the land by cutting down trees by hand. At first, students were easily exhausted. Some began sword play using cut branches when they got tired of working. These children, however, showed a dramatic change after about a year. In the harsh climate of Ashikaga, with sweltering hot days in summer and cold, windy days in winter, the students naturally built up their physical and mental strength every day as they moved up and down the steep slope, at an average gradient of 38 degrees. They acquired ability to endure hunger, heat and cold, and sleepiness.
The land cleared of trees was soon covered with rampant weeds which could outgrow vegetables. Kawata thought that fruit trees which bear sweet fruit once a year would be better than vegetables. He also thought that fruit growing that needs a lot of time and labor would be preferable so that children can work throughout the year. He finally decided to grow grape vines.
After the land clearing and construction of facilities were completed through self-funding, Cocoromi Gakuen started in 1969 as an institution for people with intellectual disabilities, with 30 students and nine staff members.
Making Good Wine, not Welfare Wine
In the postwar years, grapes sold like hotcakes because of the lack of sweets on the market, but grape prices plummeted during the nation's period of rapid economic growth in the 1960s. Kawata's response was to consider making wine since wine is a value-added product that can be stored for a longer period of time. To realize the plan, however, there was an obstacle. As a social welfare corporation receiving subsidies and tax breaks from the government, Cocoromi Gakuen could not apply for a license to produce wine. Thus, in 1980 Coco Farm & Winery was incorporated as a private limited company, with investment from some of the students' families. Today, a representative of the parents' association serves as chief executive officer of the Coco Farm & Winery.
In 1984, Coco received a government permit to produce wine and started wine production. From the beginning, Kawata said, "We will go bankrupt if we only make 'welfare wine,' so let's make good wine." At that time, grape wine had not yet gained popularity in Japan, and no one knew exactly how to produce good wine there. So Coco invited a wine consultant named Bruce Gutlove from California to Japan and sought his advice. He firmly believed that good wine depends mostly on the grapes, and he was impressed by the efforts of Cocoromi Gakuen to carefully tend the grapes and harvest by hand, avoid the use of herbicides and chemical fertilizers, and even chase away crows by rattling empty cans. To this day, he serves as a trustee of Cocoromi Gakuen and a board director of Coco Farm & Winery.
Coco selects the varieties of vine that suit the climate of the northern Kanto region, and works hard to follow natural farming practices. It is an independent winemaker using 100 percent Japanese grapes. Fermentation with natural wild yeast can be undependable and time-consuming but can make fragrant, quality wine. Wine with long-lasting taste, complexity and balance can be produced with quality grapes and microbes. People just play a supporting role.
A Wine Recognized Worldwide
A nearby animal feed company comes free of charge to take away grape skin and seeds that are left after grapes are squeezed. Rich in polyphenols, they are used as feed for cows. Compost made from the dung of cows that eat the feed is scattered in the vineyard. This way of farming has been suddenly attracting attention as "recycling farming" or "the sixth industry" (the sum of primary, secondary, and tertiary industries).
Since about 10 years ago, not only wine magazines but also women's and travel magazines have covered the winery. People buy the Coco wine at wine shops and its good reputation is spreading through word of mouth and social media.
In 2003, Coco opened a cafe and created programs for winery tours and wine tasting. Coco also has an online shop so that those who cannot visit the winery in person can still enjoy the wine.
Today almost 20,000 people not only from the local area but from all over the country come to enjoy the winery's harvest festival, held on the third Saturday and Sunday of November every year since 1984. It seems that the Cocoromi Gakuen students as well are happy to have many visitors and this gives a big boost to their motivation.
In 2000, Coco's wine was selected for a formal reception of the Kyushu-Okinawa G8 Summit. It was also used for a dinner hosted by the prime minister's wife at Hokkaido-Toyako G8 Summit in 2008 and a dinner of the G7 Foreign Ministers' Meeting in Hiroshima in 2016. Since 2013, Coco's wine has been offered frequently in Japan Airlines' international first class lounges and during its flights.
Consigning Business to Cocoromi Gakuen for All Students to Take Task
In case of a private limited company, wages are paid to employees through their bank accounts, but not to people who are hired to take care of employees by making food, doing the laundry and so on. Therefore, Coco Farm & Winery consigns a part of its operations such as wine production and bottling to Cocoromi Gakuen.
Not only growing grapes but also many other tasks in the winemaking process are monotonous and need patience. For instance, bottling wine is a hard work because students have to carry bottles working long hours in the cold. When they are in charge of the task, students are dedicated to their work, demonstrating their amazing abilities. There are many processes including fermenting, assembly of wine boxes, labeling, ribbon cutting, sealing, and folding of pamphlets, so individual students can take a task which is best suited for them.
The students and staff prepare three meals a day, clean every room and wash a mountain of clothes, living like a large family. This is a great advantage because both their living and working are part of a whole.
There are many on the waiting list to join Cocoromi Gakuen. But the institution is not always best for everybody. More than half of about 150 students are advanced in their years and more than ten rely on wheelchairs to get around. The institution strives to follow routine schedules and emphasizes physical work, so how to deal with aging is a big issue in Cocoromi Gakuen. The institution sometimes holds funerals, and some former residents' ashes have been laid to rest in the private cemetery with Noboru Kawata, who passed away in 2010.
Fitting in and Building a Mutually-Supportive Relationship with the Local Community
Since 60 years ago, the institution and local community have been coexisting and relying on each other. Local people are grateful when they see the students working in the rain to cut grass along the riverbank. (Actually, this work is easier in the rain than under the hot sun.) And in the forests, the clearing of undergrowth is crucial work for managing forestland, but there is a shortage of people who are willing to do this work. So the staff members and students who are accustomed to this kind of work are willing to take it on.
Local people help students if they are outside the facility and need assistance, caring for them as they would for their own. Cocoromi Gakuen is itself a community based on agriculture and forestry. That is why it can easily fit in and build a stable relationship with the local farming and forest community.
When asked by the city's social welfare council to join and help its autumn event, students are willing to do so even though they are busy with their farm work in that season. Some of the older students join to make the organizers happy. They may think of it as giving back to the community.

There are some in the community who want to work on the farm as volunteers. But farm work can be challenging for people who are not accustomed to dangerous tasks or working in the heat or cold. The farm likes to see them enjoy the experience and drink good wine, instead of working as volunteer.

The institution has no particular plan for the future. Thinking that today's society has too much of an obsession with trying harder, the institution isn't so bold as to call itself "independent," but cherishes living together happily and working with modest pride. To achieve that, it is important to focus on the stability and continuity of the institution. In that sense, there is much in common with wine making.
Once when the winery had severe hail damage, the staff members were at loose ends as to what to do. But the students finished their work as usual, saying "See you tomorrow." They ate much and slept well. Seeing them, the staff suddenly realized that it is useless to lament about something caused by nature, and that it is best to accept the situation and continue doing what each of us can do each moment.
---
Daily life in Cocoromi Gakuen and Coco Farm & Winery teaches us that it is important to fit in with the community and contribute products or services, to coexist amicably, and to work with modest pride. We can learn a lot from the attitude of the students, who live a full life even though they have disabilities, not by doing extraordinary things but simply by making good wine and working together with companions. We hope they will have continued success for a long time.
* This article is translated and adapted from the original Japanese article on the website of the Social Business Network:
"Interviews with 100 Japanese social entrepreneurs: Learning from the business models of veteran social entrepreneurs"
http://socialbusiness-net.com/contents/news5343 (in Japanese)