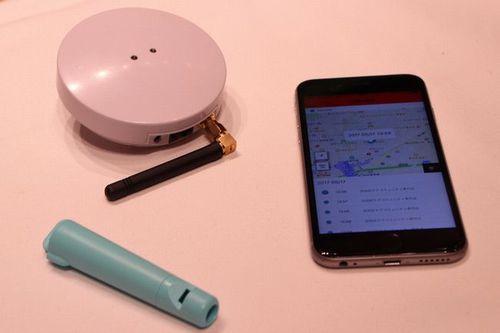 Copyright Smart Japan All Rights Reserved.
Tokyo's Shibuya City and Tokyo Electric Power Company announced plans to start testing a service based on "Internet of things" (IoT) technology for monitoring the safety and wellbeing of children and elderly people in June 2017. With permission from Smart Japan, a news site that provides the latest information on the conservation, storage and generation of electricity, we summarized their article published on May 18, 2017 to explain this new technology.
The children and elderly people in the trial will carry a dedicated device containing a beacon so that family members can access their location history through smart phones and PCs.
Base stations receiving signals from the beacons can be set up by simply plugging them into a power outlet. Smart phones can also be used as base stations by installing a free app. Public facilities and other equipment such as TEPCO's power poles will also be used as base stations to enhance the accuracy of the service.
Shibuya City will be the public contact point for the service. The city will provide the devices free of charge to elementary school students in the city, and will approach elderly people directly. TEPCO says it would like to provide basic services for "one coin" (500 yen) per month.
Shibuya City Mayor Ken Hasebe says that watching over the safety of the elderly is one of the biggest challenges in the city's elderly welfare policy.
The wandering of disoriented seniors with dementia is now recognized as a serious public concern. It is crucial to be able to locate lost seniors quickly in order to prevent serious accidents. Meanwhile, TEPCO says "Now we are just providing the monitoring, but we are seeking value-added services by collaborating with other businesses. With Mitsui Sumitomo Insurance Co. we are now considering insurance compensation for monitored seniors if they are involved in a traffic accident or other incident requiring compensation. We also intend to expand our service area."
TEPCO is also pursuing a monitoring service for individual households. In October 2016, it entered into a business tie-up agreement with Informetis Co., a Japanese venture company specializing in artificial intelligence technology. Using that firm's technology to disaggregate and estimate electricity consumption of home appliances, TEPCO estimates the real time energy consumption of each appliance from the total electrical current data of a household. Based on the observed data, it will detect changes in the number of the times certain household tasks are done, changes in living patterns, and other variations. This approach helps monitor the safety of elderly people at home by tracking their routine and non-routine behavior patterns and changes over time. This type of monitoring is expected to face less resistance, as the monitoring service can be provided without the invasive use of cameras.
In November 2016, TEPCO announced the launch of a demonstration trial for the IoT platform. The firm will install sensors in about 100 private homes around the Tokyo metropolitan area to collect data such as electricity consumption and room temperatures. It will then see if it can estimate the living conditions within the homes by accumulating and processing the collected data, with the aim of developing better home monitoring services.
Source: Smart Japan (in Japanese)