JFS Newsletter No.181 (September 2017)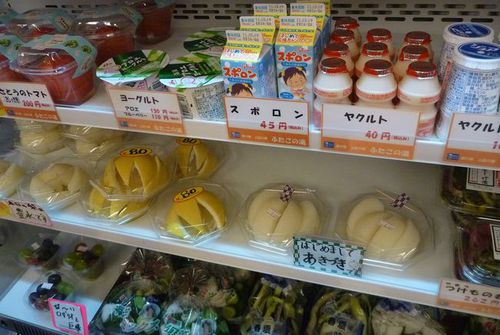 Image by Hajime NAKANO Some Rights Reserved.
Imagine all the shops disappearing from where we live; what could we do on such an occasion? In rural areas of Japan, many grocery shops have closed their doors, suffering from a dwindling, aging population. This month's JFS Newsletter introduces the reality of population decline and aging in rural areas and efforts by local people to fight against the closing of shops.
Rural Areas with Decreasing, Aging Populations
During the period of rapid economic growth from the mid-1950s to 1973, Japan underwent a major industrial shift away from primary industries such as agriculture toward secondary and tertiary industries such as manufacturing and the service sector. With such changes in society, young people, who formerly would have remained in their hometown and worked as farmers, moved to urban areas as factory workers after graduation. Fewer young people means fewer babies to be born, so rural areas are suffering from population decline and aging.
According to data released by the Japanese government in April 2017, while the population of underpopulated districts accounts for only 8.9 percent of the nation's total, the land area of these districts accounts for nearly 60 percent of Japan's national territory.
Underpopulated areas suffer additionally from aging problems. Data from 2010 show that senior citizens aged 65 years or older accounted for 22.8 percent in Japan overall, but 32.8 percent in underpopulated areas, 10 percent higher than for the whole nation.
In such areas, various kinds of problems occur: closed hospitals, discontinued train and bus services, and closed shops. If nearby shops are closed, people have to go a long way by car to buy things. This is a big burden for old people. To solve these problems, some areas protect their local shops by founding citizen-funded shops. This time, we talked by phone with the staff of five shops to gather information.
---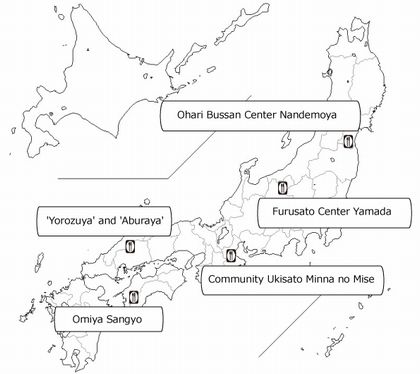 1. 'Ohari Bussan Center Nandemoya' in Marumori, Miyagi Prefecture, Delivering Food to 'Shopping Refugees' using Mobile Stalls
Located in a mountainous district at a distance of 10 kilometers from Marumori's town center, the Ohari District in Marumori, Miyagi Prefecture has a population of 800-odd. Since the last retail store in the district closed in 2002, it had been difficult for the inhabitants to buy even daily necessities.
To cope with the problem, some local volunteers got up and opened a joint-financed outlet in 2003 with the backing of the local inhabitants. The outlet was named Ohari Bussan Center Nandemoya (meaning "whatever-you-want store" in Japanese). So far the outlet has accepted an investment of 2.6 million yen (about U.S.$23,000) in total: about 2 million yen (about U.S.$18,000) from about 20 local investors, about 400,000 yen (about U.S.$3,600) from 200 local households, and the rest from other sources.
As its name implies, Nandemoya sells everything from everyday miscellaneous goods, locally cultivated vegetables and packed lunches, to commonly-enjoyed dishes and farm equipment. The outlet contributes to the community by selling everyday necessities from a mobile stall to the elderly who might otherwise become "shopping refugees."
2. 'Furusato Center Yamada' in Takayama, Nagano Prefecture Attracting Young People by Looking like a Convenience Store
Furusato Center Yamada was established in September 2007 to sell food and everyday necessities to about 400 households in the Nakayama District of Takayama, Nagano Prefecture.
The decision of JA (Japan Agricultural Cooperatives) to abolish its Suko Yamada Branch was the impetus for establishing the center. Facing protests from local inhabitants against the abolishment, JA offered to sell shares at 30,000 yen (about U.S.$270) a piece in June 2007, collecting 7.74 million yen (about U.S.$70,000) from 150 inhabitants. With the funds, Furusato Center Yamada, a joint-stock company, was set up in July 2007 and the shop started operating in September 2007. The shop has a space where local old-timers can rest and enjoy talking together.
The center was reorganized in April 2016, resuming its operation as Y Shop Furusato Center Yamada. Y Shops are community-based shops organized by the Yamazaki Baking Co. The convenience store-style shop attracts young shoppers with children.
3. Residents Help Restore a Community Base: 'Community Ukisato Minna no Mise' in Matsuzaka, Mie Prefecture
Yunohara, located about 30 minutes by car from the center of Matsuzaka in Mie Prefecture, has a population of about 80. The town's inhabitants have had to overcome various difficulties such as plans to abolish the route bus in 1988, withdrawal of the JA outlet in 2003 and closure of post office in 2007.
When abolishment of the route bus was under consideration, the residents opened an "early bird market" to sell fresh vegetables to visitors from urban areas. When the post office and JA outlet were closed, the residents' association started operating a simplified post office, accepting business from Japan Post.
In July 2007, every household in the residents' association invested 10,000 yen (about U.S.$90) to operate Community Ukisato Minna no Mise. Other money needed for its operation was provided by the residents' association or contributed. The facility sells food and clothes to residents and posts area maps of the district for sightseeing visitors.
4. 'Yorozuya' and 'Aburaya' --- Initiatives by Kawane Promotion Committee in Kawane, Hiroshima Prefecture
Over 300 people live in the Kawane district of Akitakata, Hiroshima Prefecture. Faced with the withdrawal of the local JA outlet, the Kawane Promotion Committee started operating a store called "Yorozuya" and a gas station, "Aburaya," in 2000 with funding from residents to support people's daily lives. The committee received investment funds from about 250 households in the area, each of which contributed 1,000 yen (about U.S.$9).
Kawane has launched various initiatives, including a "One-Yen Donation per Person per Day" campaign, to support food delivery to the elderly. Such activities have their root in the devastating damage caused by massive flooding in 1972, which accelerated the area's depopulation. With a sense of crisis, residents started working proactively and have been continuing their activities, with the Kawane Promotion Committee playing a key role.
5. Omiya Sangyo Retaining its Store Despite Population Shrinkage --- Omiya, Kochi Prefecture
The Omiya district of Nishitosa in Shimanto, Kochi Prefecture, is located near the border with Ehime Prefecture. The population of Omiya was about 500 in the 1970s, but has decreased to about 300 now. The ratio of people aged 65 and over to the total population in the district is very high, about 50 percent. This is where Omiya Sangyo Inc. is located. Omiya Sangyo, which operates a store equipped with a gas station, was established in May 2006 when JA closed its Omiya branch.
Local residents were against the JA branch's closure, saying, "Without the JA branch life will be inconvenient." They launched an opposition campaign, collecting signatures, but the branch's closure was formally settled in 2005. In response to this, 108 residents invested a total of 7 million yen (about U.S.$63,100) to establish their own company, Omiya Sangyo Inc. The company's facilities, including a gas station, grocery store and warehouse for agricultural materials, took over the JA branch facilities.
In the early stage of its operations, Omiya Sangyo held advisory meetings with representatives from each area several times a year to improve the selection of goods and sales methods. The company has made various efforts to contribute to the local community. Although it is difficult to maintain the store in the midst of population decline, Omiya Sangyo launched liquor sales in 2017.
---
As shown by these five examples, diverse forms of resident-funded stores exist suited to current conditions and the historical background of each area. The amount of investment varies from 1,000 yen (about U.S.$9) per unit to tens of thousands of yen depending on the presence or absence of subsidies from the local government and differences in initial costs incurred. In some cases, investment by all the households in the community has created a sense of "our store" even though the amount invested was small.
At any rate, keeping stores open will be a major challenge in an aging, depopulating society. In Europe and the United States, there are examples of residents establishing cooperative associations to retain community stores. Crowdfunding, a way of raising contributions from large numbers of people through the Internet, may enable children and grandchildren living away from home to provide funding for a store in their hometown.
If you have any examples of keeping a community store around you, please share your information with us using the contact form.
https://www.japanfs.org/en/contact/index.html

Written by Naoko Niitsu