JFS Newsletter No.173 (January 2017)

Image by Maxhavel.
The Fair Trade movement arose with the aim of resolving north-south disparities with developing countries. Later, it founded a social movement seeking ways to promote eco-conscious consumption through green-purchasing initiatives, eco-label systems and other efforts to address intensifying environmental issues. It has continued various efforts in Japan and abroad.
Japan faces issues such as recovery from natural disasters that have occurred frequently in recent years, widening social and economic gaps within Japan, and distress among local economies due to aging and depopulation. To address these, people have come up with various ideas to help society change for the better, such as local production for local consumption, and supportive consumption. Initiatives going beyond fair trade have arisen as well, under the concept of ethical consumption. These aim to change society through consumer behavior.
This month, the JFS newsletter introduces Japan's Fair Trade movement. Starting with a historic overview of the movement, we observe the changing values among consumers responding to the challenges in Japanese society. Then we introduce Japan's Fair Trade Town movement, which aims to achieve more equitable consumption by uniquely expanding and applying the core values of fair trade locally.
Fair Trade Initiatives in Japan
Fair trade aims for sustainable trade on equal business terms between small producers and workers in developing countries and retailers/consumers in developed countries rather than having one-way support provided from the Global North to the South, so that the producers will be able to improve their living and working conditions. Fair trade was launched in the USA after the Second World War and has expanded globally. In Japan, it was introduced in the 1970s among international cooperation NGO (non-governmental organization) activities. Thereafter, NGOs dedicated to fair trade have promoted the movement.
The movement, however, has faced market limits. It was difficult for the NGOs and fair trade organizations to expand the market by themselves due to the low quality and high cost of the products. In the 1990s, they started a "fair trade labelling" initiative, collaborating with existing general businesses, with the aim of overcoming those problems and expanding the market for fair trade products. Using labels, this certification system has made it possible to add certified products to distribution routes of existing general businesses. When supermarkets and other places where people do their everyday shopping handle fair trade products, people can easily access them.
After the labeling system was introduced, fair trade products such as tea, coffee, chocolate, spices and wine became available, even at major retail shops.
The global market for fair trade products has been growing annually by about 30 percent since 1999, and survey results in 2015 showed it reaching about 7.3 billion euros (about 980 billion yen) in total. In Japan, certified fair trade products have been marketed since around 2002, reaching about 10 billion yen (about $86.2 million) in 2015. Japan's market has been steadily growing as well, but is still small compared to the western market. That means, though, that Japan's market has much potential for growth.
Changing Consumption Trends, Changing Values
To get an understanding of the movement to improve society, making it fairer, we need to look at consumer trends and changing values. The book "Daiyon no Shohi: Tsunagari o Umidasu Shakai" ("The Fourth Consumption: Society That Creates Connections") by Atsushi Miura, published in 2012, observes that consumption trends in Japan change on a 30-year cycle. Before the Second World War, consumption trends were western- and urban-oriented. Through the period of mass consumption accompanying the rapid economic growth of the 1960s, the trend shifted to individualistic and obsessive consumption, valuing quality and brand loyalty from around 1975.
The next change in consumption appeared from around 2005. Consumer values emerged emphasizing spiritual affluence and social contribution represented by simplicity, connectivity and sharing. The timing of this new trend's emergence corresponded to when fair trade started to spread in Japan.
The hardships of the Great East Japan Earthquake may have boosted the change in values to connectivity with people and society and spiritual affluence. As people helped the disaster-affected areas, providing support such as money or goods or going there themselves as volunteers, different supportive behaviors emerged -- such as buying products from the affected areas or travelling to those areas to buy things there.
Consumer values are changing, with existing fair trade and green purchasing schemes promoting environmentally-friendly products. These trends are being integrated into the momentum of ethical consumption.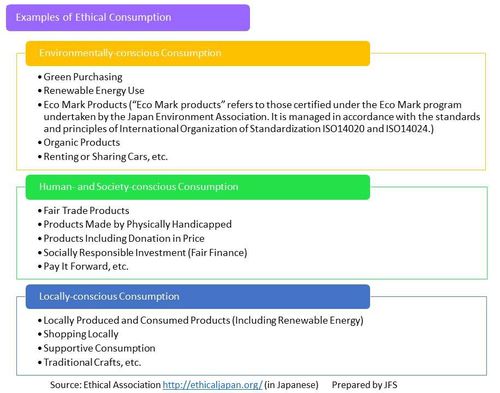 Examples of Ethical Consumption (Click to view large image)
Fair Trade Town Movement
The Fair Trade Town movement in Japan started in the midst of the aforementioned changes in consumer values. Its goal is to promote and spread fair trade in towns through cooperation among the town government, residents, enterprises, citizens groups and others involved.
A Fair Trade Town campaign was launched in the UK in 2000. It spread first in western developed countries, and then to developing countries of Eastern Europe, Latin America and Africa. As of the end of January 2017, 1,867 Fair Trade Towns have been launched in 29 countries.
In Japan, Fair Trade Town Japan (now Fair Trade Forum Japan) developed the following six criteria in May 2011. Applications from candidate towns are reviewed based on these criteria. Towns meeting the criteria and approved by the board members are certified as Fair Trade Towns.
The six criteria for Fair Trade Towns are: 1. Establishment of a promotion body to spread fair trade and gain more supporters 2. Initiation of a variety of campaigns to raise awareness among residents 3. Gaining understanding and cooperation from various local stakeholders 4. Contribution to revitalization of the local society and economy 5. Provision of diverse fair trade products by local shops 6. Gaining support from the local government to spread fair trade products throughout the town
Japan's first city certified as a Fair Trade Town was Kumamoto, which had been working for certification since 2003. The owner of one of the fair trade shops in the area took the lead, reaching out to the mayor and city representatives. Six years later, the group, led by the shop owner, launched the Fair Trade City Steering Committee and continued working to raise awareness by holding fashion shows and school lecture visits as well as through awareness-raising and signature-gathering campaigns.
In 2010, the group successfully involved the Kumamoto City Council in the initiative, and became the world's 1000th Fair Trade City/Town in June 2011. It also marked the first Asian town certified. The steering committee continued deepening relationships with other groups overseas, and in March 2014, an International Fair Trade Towns Conference was held in Kumamoto, the first city outside of Europe to hold such a conference .
Following Kumamoto, Nagoya in Aichi Prefecture was awarded the status of Fair Trade Town in September 2015, and Zushi in Kanagawa Prefecture, in July 2016. Other cities and towns, including Ichinomiya in Aichi Prefecture, Utsunomiya in Tochigi Prefecture, and Tarui in Gifu Prefecture have launched initiatives.
Kumamoto Accredited as Asia's First Fair Trade City 
http://www.japanfs.org/en/news/archives/news_id031200.html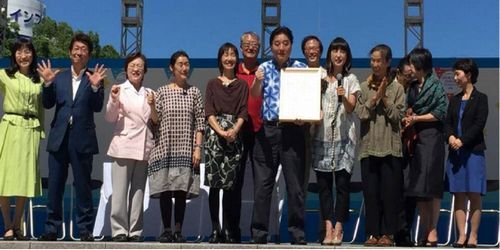 Ceremony of Nagoya City as a new Fair Trade Town
Copyright Fair Trade Nagoya Network All Rights Reserved.
The most prominent feature of Japan's Fair Trade Town initiative is the criterion of "Contribution to Revitalization of the Local Society and Economy," which is unique to Japan. It requires people to act on the following basis: To achieve a revitalized local economy and society, with stronger bonds among people, including producers and retailers, as well as industries, local residents need to cooperate with each other in community activities such as local production for local consumption, community development, environmental protection and support for the disabled. The aim of having this standard is to develop a fundamental concept of a fair trade in local communities -- to realize the independence of small, vulnerable producers, the original aim of which was to resolve North-South issues with respect to developing countries.
In recent years, the growing economic gap in societies has become an issue worldwide, including in Japan. Japan's distinctive standard of spreading fair trade to regions aims to bring fairness and sustainability to Japanese society by allowing local communities to take action by themselves. The targets of this unique standard include the issues of disparities; poverty; shattered primary industries, including agriculture and fisheries in rural areas suffering from depopulation and aging; and support for independence of disabled citizens.
The Fair Trade Town initiative is a movement promoting environment- and society-friendly consumption by raising awareness among individuals. It is also a movement that involves various types of groups, including administrative offices, local citizens and organizations in practicing the concept of fair trade regionally. I hope that fair and eco-friendly consumption will be practiced in local communities, and that this will help increase the number of such cities and towns across Japan and around the world.

Written by Noriko Sakamoto
Reference: Professor Tatsuya Watanabe, Tokyo Keizai University, 
Chapter 10: Fair Trade and Fair Trade Town Initiative
Blue Earth College (2015, Tokyu Agency) (in Japanese)