JFS Newsletter No.161 (January 2016)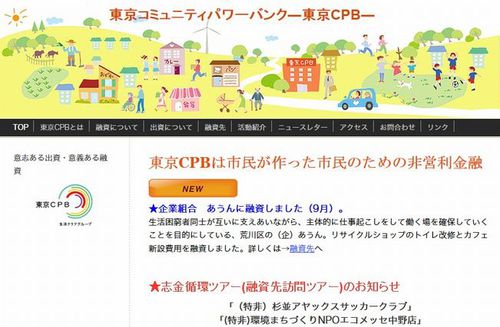 Website of Tokyo Community Power Bank
We need a certain amount of money to make our daily living. In particular, starting a business or revitalizing a community requires some money. Of course we can launch a business or a project with our own savings, but on a larger scale, we are likely to want financial support, that is, to borrow money to fulfill our dreams, establish a business or revitalize a community.
The role of finance was originally to meet the expectations of such people and communities, but since ordinary financial institutions are commercial companies, they don't fund clients who pose potential risks. Financial institutions profit from the difference between their total interest expenses and interest income (profit margin). Therefore, their policy will be to fund projects with limited risks and large economic returns.
Carrying out highly public, non-profit projects, on the other hand, such as community-based nursing care or welfare activities, preserving the natural environment, promoting renewable energy sources, supporting young or female entrepreneurs, and helping heavy debtors or homeless people resume their lives, calls for a social rather than economic return. Not a few projects of high social importance involve high risks and low returns. It is often difficult to get loans from ordinary financial institutions for these projects.
Under conventional financial systems, money doesn't flow to those in need. To remedy this, we can collect the money needed on our own and circulate it to those in need according to our intentions. Such "financing of the people, by the people, for the people" initiatives are spreading across the world.
One example is the Grameen Bank, organized by 2006 Nobel Peace Prize Laureate Muhammad Yunus. The bank offers microfinancing to women in Bangladesh. Many other microfinance institutions also operate in developing countries in Asia and Latin America.
Japan also has citizen-led banks such as the Community Bank, Shimin Ginko (citizen bank) and NPO Bank. They provide citizen-oriented financial services managed mainly for community revitalization. They typically solicit investments in the amount of several tens of thousands of yen (roughly several hundreds of U.S. dollars) per share, and loan money to NPOs or individuals at low interest rates, drawing on the funds. This allows the funds to be used for citizens' activities and local efforts.
According to the Japan NPO-BANK Network, there were 14 citizen-led financial projects as of March 31, 2015. The amount invested in them totaled 580.235 million yen (about U.S.$4.84 million), excluding undisclosed data. Their loans came to a cumulative 3,225.078 million yen (about U.S.$26.88 million).
The Mirai Bank ("mirai" meaning "future" in Japanese), established in 1994, pioneered the effort in Japan. Four years later, the Josei Shimin (Women Citizens) Community Bank, formerly the "Josei Shimin Shinyo Kumiai Setsuritsu Junbikai" (Preparatory Association for Establishing the Women Citizens Credit Union) was established by the Seikatsu Club Consumers' Co-operative Union. The motive for founding it was that banks could hardly be persuaded to provide loans for female citizens' projects such as day-care centers and restaurants. In reality, even if a woman applies for a loan, she often gets responses such as "collateral is necessary" (usually under her husband's name) or "loans can be provided under your husband's name."
The Seikatsu Club Consumers' Co-operative Union had already developed several initiatives, becoming politically involved by sending representatives into politics when it seemed no existing politician could represent them, and creating workers' collectives when it seemed there were only a few business entities hiring female workers and they needed such places to provide work. They started their own bank, too, when they realized many women had difficulty getting financing and they wanted a system to secure financing for themselves.
In response to issues such as their desire to put their valuable money to good use for society and solving local issues, they established the Tokyo Community Power Bank (Tokyo CPB) in 2003, based on the activities of the Seikatsu Club. The following is an interview with Mari Tsuboi, president of the bank.
---------------------------------------
Q: What made you establish the Tokyo CPB?
A: In the 1990s when globalization was expanding, issues arose as a result, such as environmental destruction, child labor and concerns about nuclear power generation, so I began to think about what finance means to a society. At the time, reorganization of financial entities was occurring, as well as financial scandals and bankruptcies, while many other financial institutions were engaged in real estate speculation. My fundamental awareness was that money was not flowing in the ways we thought it should be. I launched the bank with the hope of circulating money to energize people and communities who support society through their efforts.
The Tokyo CPB is a non-profit "citizens' bank" for financing social business entities helping the environment and social welfare with the money invested by individual and organizational members. The Seikatsu Club Consumers' Co-operative Union engages in not only joint purchases but also activities to solve various local environmental, social welfare, child rearing and other issues, based on citizen participation. For citizens to continue their activities as projects, though, financial support -- not to mention their enthusiasm -- is essential.
Q: Who are the loan recipients? How do you decide what kind of loan to provide?
A: The main target is citizens and organizations that reside in and run small-scale businesses throughout Tokyo. Tokyo CPB's citizens' review committee, consisting of citizens and experts, reviews their performance by verifying financial statements and conducting on-site inspections, looking for social value and innovativeness. Another unique feature of the Tokyo CPB is that it sets up opportunities for communicating with citizen investors after providing them loans, including a six-month counseling session and a tour to visit borrowers in order to follow up on how their money is used to improve society.
In particular, our "Tomodachi (friendship) Investors' Group System" is unique. Under this scheme, the CPB gathers potential investors to support a particular member who wants a loan, and lends money to the person at a lower interest rate than usual. It is unique in stabilizing project management by calling for various kinds of support for financing and activities.
Q: Who are the borrowers?
A: Non-profit organizations and citizens' business enterprises organized from a citizens' standpoint. The areas of business vary, from local welfare, living, the environment, natural energy and culture to places for socially handicapped people, job assistance and worker's collectives.
Q: Could you describe the performance so far and tell me about some recent loan projects?
A: As of August 31, 2015, Tokyo CPB members totaled 648, including 601 individuals and 47 organizations. Their contributions have come to 105.15 million yen (about U.S.$880,000), with a cumulative total of 68 loans, amounting to a total of 296.13 million yen (about U.S.$2.47 million). The most recent loan project was organized in September 2015 for a business union named "Awn." They made a loan to the Awn Corporation in Arakawa, Tokyo, to refurbish bathrooms and build a cafe at a second-hand shop, with the aim of securing working places for people facing financial difficulties so they can proactively find jobs and support one another.
Q: How is the situation in Japan compared to in other countries?
The United States has the Community Reinvestment Act (CRA), obligating private profit-making financial institutions to fund local communities. There is also a non-profit organization to keep an eye on financial institutions and be sure they follow the CRA well. Moreover, there are many Community Development Financial Institutions (CDFIs) which play a major role in providing non-profit financing in local communities. The CDFIs develop their own locally rooted activities. Through their projects, such as local redevelopment and residential development for socially vulnerable people, they play a key role, involving major financial institutions and other entities.
In the United Kingdom, the government of the former Blair Administration also promoted CDFIs, which generated many kinds of projects. The Netherlands has the Toriodos Bank, which contributes socially and ethically. That bank is now expanding its business, opening branches in many countries in Europe. Germany and Italy also have community banks.
In Japan, we have not had those kinds of institutions so far and we lack the cultural background. What we started out with were "gainful banks," not "good banks," and we have almost no conception of non-profit banks. Since 2003 or so, the government has urged the people to invest their money under the catch phrase "from savings to investment." Many people invested money for their old age, but the number of victims of fraudulent funds increased. Therefore, a law to protect investors was established, including a regulation obligating the release of an annual securities report, since the investment vehicles were in essence securities. To publish securities reports is very hard and costly as well, so NPO banks may not be viable. Against this backdrop, NPO banks across the country got together, established a network and set to work on the government to get exempted from the regulation.
Non-profit financing is finally being accepted by society, on the condition that it provides no interest or dividends. Partly because the Money Lending Control Act strictly controls financing, NPO banks have not become very popular in Japan.
I think social finance could expand and contribute more to society if there were a "social finance promotion" type of act to promote good, non-profit, socially beneficial financing by providing incentives such as tax reduction for investment, as done in the United Kingdom.
---------------------------------------
After my interview with Tsuboi, I reviewed the activities by the Tokyo CPB to explore "financing to vitalize communities." It is a non-profit, civic fund established by the citizens for the citizens to add intentionality and mindfulness to cash flows, under the slogan "investment with purpose and financing with meaning." I strongly hope that a system like the NPO Bank's that intermediates between "money with intention" and "people with intention" will become more popular across Japan.
Currently in Japan, regional revitalization has become popular. In the United States, during the Clinton Administration, the government made local revitalization a pillar of its policy and established a fund at the Department of the Treasury to support the CDFIs as a new system. This boosted movements of these kinds of citizens' and community banks. Passage of the CRA has not only supported existing profit-making financial institutions but also succeeded in promoting circulation of finances in local communities by using financial funds and effectively incorporating for-profit finance and non-profit finance in the financial funds. I hope "financing of the people, by the people, for the people" and "regional revitalization from the perspective of finance" will be promoted in Japan as well as other countries.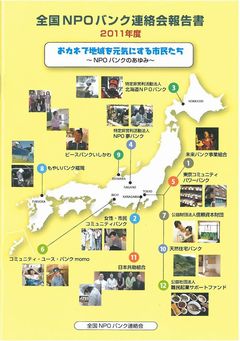 Japan NPO-BANK Network 2011 Annual Report

Written by Junko Edahiro
Tokyo Community Power Bank
http://www.tokyo-cpb.org/ (only in Japanese)
Japan NPO-BANK Network
http://www.npobank.net/ (only in Japanese)