JFS Newsletter No.160 (December 2015)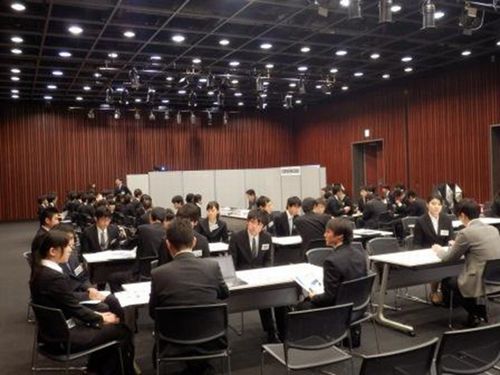 Copyright Grace Co. All Rights Reserved.
Japan is experiencing depopulation and an aging society, problems that are thought to become serious worldwide in the future. It is expected that Japan will serve as a useful precedent for the world on how to address these problems.
Grace Co., an environment-related personnel and human resources solutions company and a corporate member of Japan for Sustainability, celebrated its 20th anniversary in December 2015. This company has been exploring methods for human resources solutions in the environmental field -- the field aiming to achieve a sustainable society -- in order to help companies maintain well-balanced employment even amid the declining workforce in Japan resulting from the depopulation and aging of society.
In this issue, we introduce Grace's new initiative to support the recruitment of new graduates specialized in the environmental business sector, involving the Eco-Friendly Recruitment Fair, a joint company information session.
About Grace Co.
When each individual is conscious that his or her work is of help to society and society recognizes this fact, this establishes a virtuous cycle. Grace believes that this virtuous cycle will be what really leads society towards a healthy and bright future, consequently creating a sustainable society.
Grace aspires to a society where every single person works with a sense of purpose and can find the meaning of their existence in this world. The company provides optimal solutions to both working people and companies that have been growing in the environmental sector in accordance with its mission of "realizing a beautiful, affluent, and sustainable society where everyone can feel motivated and enjoy their work, by matching employers with job seekers who meet the companies' needs."
Grace's human resources solutions operation is classified into four categories:
Personnel placement: Grace dispatches the required number of people with practical working experience to companies for the period requested by the companies. Grace also espouses "temp to perm staffing," which gives temporary employees a chance to be directly hired for a permanent position when both parties agree.


Personnel recommendations: Grace introduces prospective employees who meet employers' needs; employers then carry out interviews and employment tests. In this way, Grace promotes "putting the right people in the right posts" to create value for both employers and employees.


Support for hiring new graduates: Grace introduces new graduates who can respond to employers' demands. This helps companies avoid such problems as new graduates declining their job offers and difficulties in attracting new graduates through major recruitment agency websites.


Posting job placement advertisements: Grace operates an environment-related job placement website, www.kankyo-job.net (in Japanese only; "kankyo" means "environment"), which helps to efficiently match employers with job seekers who have a detailed knowledge of environment-related work.
More about the Recruiting Site
The website "www.kankyo-job.net" provides information about job opportunities for both career changers and new graduates in environmental-related and chemical, electric, mechanical, biotechnology and other scientific fields that require specific expertise. Job seekers with backgrounds in physics, chemistry, engineering and other sciences, including highly skilled engineers and consultants, are permanently registered on the site.
One of the characteristics of this site is that the job information posted is categorized into eight environmental contribution fields: climate change, chemistry, sustainability, nature, energy, water environment, corporate social responsibility (CSR) & social contribution, and life (food, pharmacy, bio-related industries). These categories allow job seekers to recognize at glance which job opportunity matches the fields they want to work in.
The site also includes other information useful to job seekers, such as interviews of persons active in the environmental business field, and information on trends in environmental business and environment-related events/seminars.


Copyright Grace Co. All Rights Reserved.
http://www.kankyo-job.net/ (in Japanese)
Eco-Friendly Recruitment Fairs
Since 2014, Grace has been working on joint company information sessions called "Eco-Friendly Recruitment Fairs," which help companies in the environmental business field with graduate recruitment. They have so far been held twice: on February 14, 2014 for students that graduated in March 2015 and on April 25, 2015 for students that will graduate in March 2016. A total of 13 companies and 220 students participated in these fairs.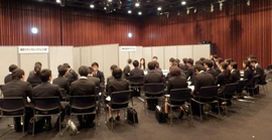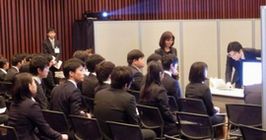 Copyright Grace Co. All Rights Reserved.
The next fair, which will be for students who graduate in March 2017, is scheduled for February 27, 2016 and will consist of two parts. The first part will feature a problem-solving game named "Escape from Global Environment Collapse," designed to help students understand the environmental business sector.
In this game, students will be divided into groups each of several members. Each group will have to work together to solve various kinds of tasks related to environmental issues one after another, and when it can solve all tasks given, it has successfully escaped. By working on these tasks, students can gain a better understanding of which environmental problems are drawing attention now and whether an environmental business could be set up to successfully deal with them.
Although companies will not participate in the game, by observing how the students work on the game, they can check each student's cooperativeness and leadership, qualities that cannot be assessed sufficiently through an individual interview.
The second part of the fair is free, unscheduled visiting at companies' booths. Students will be able to visit the individual booths of the companies they are interested in. Rather than giving a stereotypical explanation, each company can interact with each student individually according to their willingness, interest, etc.
In both of the past two fairs, individual "free-visit" type booths were set up and students freely visited these booths without having to make an appointment. In the second fair, students were also divided into groups and each group visited a designated booth for a limited period of time one after another. According to questionnaires after these fairs, the visiting style adopted at the first fair was received more favorably by both students and companies; therefore, this style has been adopted for the upcoming fair.
Feedback from students who participated in past included the following comments: "As I was able to talk directly to members of participating companies, and was able to eliminate various anxieties and questions that I had before:" "This fair made me realize that there are areas that I don't know about in the environmental-related business field and I feel my perspective has been broadened:" "I became aware of the future growth potential of environmental businesses:" and "In Hokkaido (the northernmost island prefecture of Japan), I had a hard time finding a company where I would want to work, but at this fair I found one. It was really worth coming here all the way from Hokkaido."
The following feedback from staff of participating companies indicate that these fairs offered meaningful opportunities for them as well: "Since the objective of participating students was very clear, it was easy for us to talk with them at a much deeper level:" "This fair offers opportunities both for us and the students to understand each other:" and, "This fair expanded our recruitment channel."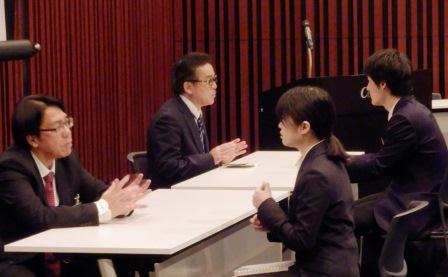 Copyright Grace Co. All Rights Reserved.
For each fair, an important element in addition to the main event involves activities to help participating students better prepare for the fair and activities to follow up with participating companies after the fair.
Support for participating students prior to the event include distributing newsletters and organizing job hunting seminars. Newsletters are sent weekly and contain lots of information useful for job seekers such as interviews of staff members of participating companies and a Q &-A style article on job hunting activities.
A job hunting seminar was held on December 19, 2015 and another will be held on January 16, 2016. Each seminar consists of three parts: The first part is a lecture on the latest trends in the environmental business sector and current job hunting activities in the sector. A Grace staff member gives the lecture, providing information on the latest situation.
The second part is a talk session among human resource personnel and young professionals from companies in the environment business sector. They candidly talk about job-hunting/recruitment activities, interview sessions during the recruitment processes, company life after joining their companies and other matters from the company's perspective. A Q & A session is also included in this part, providing a great opportunity for participating students to ameliorate their anxieties.
The third part is an individual career consultation session, in which job-matching advisors who have been engaged for many years in supporting the job-hunting activities of students majoring in science and engineering, answer questions posed by participating students.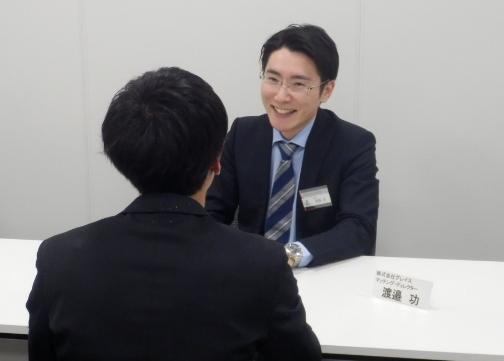 Copyright Grace Co. All Rights Reserved.
It is thought that providing job-seeking students with these opportunities to prepare themselves will help make their interview sessions at company booths during the fair more effective and efficient, leading to better job matching accuracy.
After each fair, Grace sends companies detailed information about students who are interested in them. Also, companies can also effectively utilize its job placement website (www.kankyo-job.net) and job-matching advisors, thus receiving continuous support for their recruitment activities.
It is hoped that the Eco-friendly Recruitment Fair will be able to help as many students as possible to find the job they are looking for in a company in the environment business sector so that they will be motivated and enjoy working toward the realization of a sustainable society.

Written by Nobuhiro Tanabe
See also:
Environment-friendly Recruitment Fair 2017 (In Japanese only)
https://www.kankyo-job.net/library/eco2017.html
Related article in the JFS archive
Human Resources Solutions for a Sustainable Society -- Grace Co., Ltd.
http://www.japanfs.org/en/news/archives/news_id029490.html