JFS Newsletter No.159 (November 2015)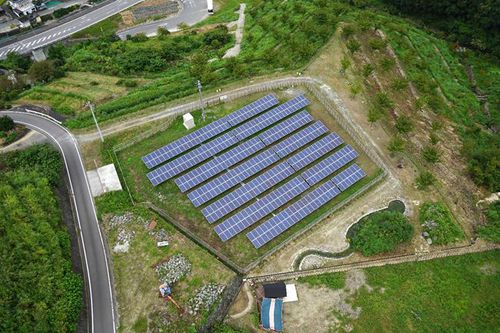 Copyright The Tokushima Regional Energy General Incorporated Association All Rights Reserved.
The Tokushima Regional Energy General Incorporated Association (TREGIA) is a business enterprise that has been set up in Tokushima prefecture "to coordinate independent local energy development so that local people can enjoy the benefits." This issue introduces a very nice solar power generation system called "Community Happy Solar" as described by Kazumi Toyooka, TREGIA's administrative officer.
TREGIA "solicits donations to partly cover construction costs in exchange for local specialty products." This system draws many people into the solar power generation business and helps make it more acceptable to the community.
TREGIA raises donations in units of 10,000 yen (US$84.03) from people interested in supporting villages dependent on primary industries. These donations contribute to the working capital needed to manage a solar power plant, and the names of contributors are posted at the power plant to express appreciation. The power generation capacity and profits from selling the electricity are publicly disclosed, and profits are used to support local agriculture, forestry and fisheries in ways determined by a management council that includes representatives of local public bodies and agricultural organizations.
When the power generation is going well, TREGIA sends contributors local specialty products (agricultural or fishery products) that are safe and secure. Procuring these products locally provides further support to local industries.
The first project that called for donations under this system was Sanagochi Mitsubachi Solar (100 kilowatts). Sanagochi Village, with a population of about 2,600 people, is about one hour by car from Tokushima Station. It is the only village left in Tokushima Prefecture that has not been consolidated into a larger local government entity. This village is blessed with a rich natural environment and an agricultural industry that produces fruit, mushrooms and green onions.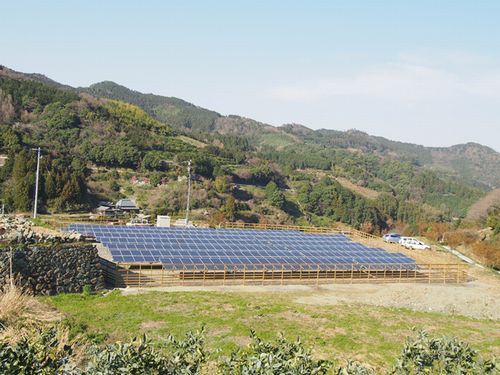 Copyright The Tokushima Regional Energy General Incorporated Association All Rights Reserved.
When TREGIA initially offered 300 units, a total of 322 contributions were received in only two months, exceeding the number offered. Operation of a solar array started in March 2014. Among the 322 contributors, seven are residents of the village, 254 live elsewhere in Tokushima prefecture, and 61 live in other prefectures. This shows that many people outside the village support the initiative.
In return for their contribution, supporters receive specialties of the village such as kiwi fruits, strawberries and sudachi, a citrus fruit similar to a lime. For contributors living outside the prefecture with few opportunities to visit the solar facilities, the village uploaded an airborne video to their website.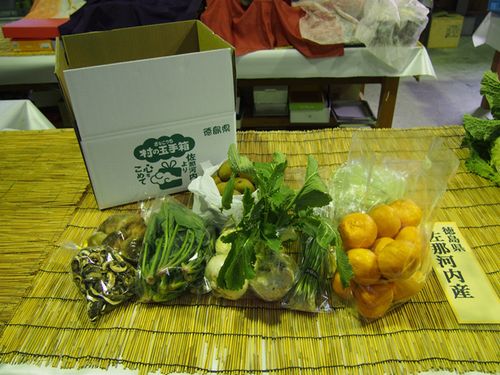 Copyright The Tokushima Regional Energy General Incorporated Association All Rights Reserved.
TREGIA plans to implement Community Happy Solar projects at five locations in the prefecture. Three of them, including Sanagochi Village, are now underway.
Mugi Town, one of the three operational locations, is a coastal town located about 90 minutes from Tokushima Station by Japan Rail train. With a population of just over 4,500 people, the town is mainly dependent on its fishing industry.
The town's mayor describes the current severe situation on its website: "Just as in other depopulating places, many young people have been leaving town since Japan's rapid economic growth period started in the mid-1950s. Currently the population is less than half of what it used to be, and with the declining birthrate and aging population, the town is suffering from a depopulation spiral and having a hard time pulling out of it."
According to Toyooka, the mayor of the town consulted her about the matter and the town started to collect donations to operate solar arrays at places such as the rooftop of an abandoned elementary school and vacant lots owned by the town. The target amount is 3 million yen (about US$25,210). The town government and local association of fishing cooperatives are collaborating on implementation. They plan to send gifts to contributors in return for their donations, including fresh marine products, dried fish, and processed seafood.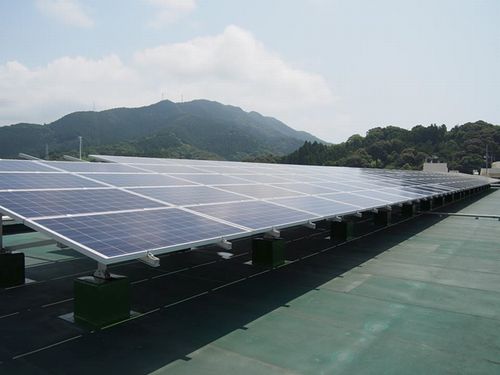 Copyright The Tokushima Regional Energy General Incorporated Association All Rights Reserved.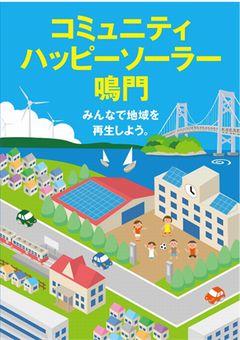 Copyright The Tokushima Regional Energy General Incorporated Association All Rights Reserved.
Another case is Community Happy Solar Naruto in Naruto City, located on the northeast edge of the prefecture and famous for the whirlpools in the Naruto Straits. It is promoting the installation of photovoltaic facilities at four elementary and junior high schools in the city. The annual power generation is expected to total up to 162,500 kWh. It will be collecting donations, with a minimum unit of 10,000 yen (US$84.03), until the end of March 2016, and hopes to collect four million yen (US$33,613.45). Currently, TREGIA and Naruto City are discussing what local specialty gifts will be sent to contributors.
Toyooka said she has a sense of crisis, thinking "Local communities will never be free from exploitation by the central government, for example by accepting profligate public work projects or radioactive wastes, unless we create systems that circulate money through the local economy on our own."
The major reason why Toyooka and her colleagues started this initiative was because they were inspired by a case in Yusuhara Town, Kochi Prefecture. Although it faces depopulation and an aging population, Yusuhara has managed to avoid falling into debt and succumbing to municipality merger. Yusuhara has promoted electric power sales by installing wind power generator systems funded by the town together with subsidies from the national government. It also has implemented various environmental policies, such as installing photovoltaic facilities and granting subsidies for forest plantation thinning. Hoping to re-create Yusuhara's success, Toyooka said, they launched Community Happy Solar.
"It is said that renewable energy businesses do not create jobs, but I think they do depending on what kinds of systems we adopt. We hope to make the best use of systems like Community Happy Solar, so that each community can earn enough money to be financially independent. This would help vitalize local communities, leading to a decentralized society. "
The Community Happy Solar initiative is particularly well-done, in that not only do the profits of electric power sales return to the community but also the gifts returned to contributors support local businesses as well! I hope this type of system, which not only generates energy but creates local happiness, will spread across the country.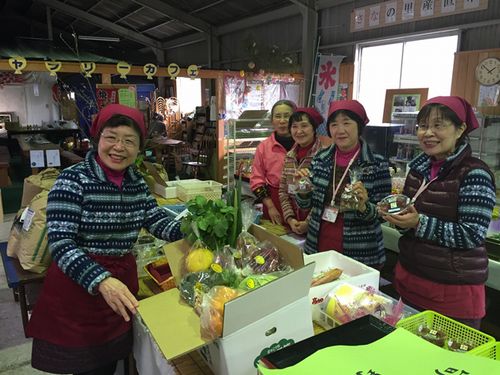 Copyright The Tokushima Regional Energy General Incorporated Association All Rights Reserved.
Written by Junko Edahiro