JFS Newsletter No.153 (May 2015)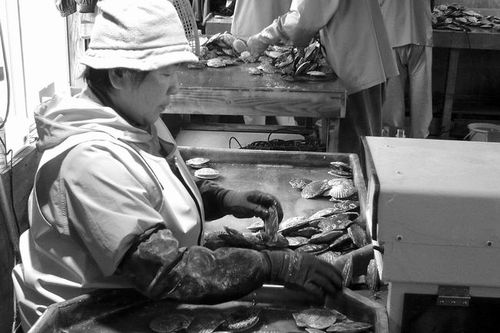 Copyright Kagaribi All rights reserved.
In last month's issue of the JFS Newsletter, we introduced the first half of an article about unique approaches to protect a local economy and community (Abundance at Lake Saroma, Japan: Saroma Fishery Cooperative Practices Socialism within a Capitalist System) by Kanichi Sugawara (in translation), with permission of the author and editorial team. This month we provide the second half of his article, which was originally published in the magazine "Kagaribi" ("Bonfire" in Japanese) in December 2010.
---
The Abundance of Lake Saroma
Lake Saroma, in the northeastern part of Hokkaido, Japan, has a surface area of 151.81 square kilometers and a shore length of 87 kilometers. It is a coastal lagoon connected to the Sea of Okhotsk through two artificial channels in the sandbar; one is 300 meters wide on the west side and another is 50 meters wide on the east side. Fishing rights in Lake Saroma are granted to a total of 410 member fishermen belonging to three fishery cooperatives in Saroma, Tokoro, and Yubetsu. Target species and fishing methods are pretty much the same among these three cooperatives, but the management system of the Saroma Cooperative is quite unique, in that it is a type of socialism within a capitalist system, as described in Part 1. All three cooperatives have detailed rules for fishing methods and seasons, etc., to avoid depletion of the fishery resources.
The total allowable capacity of scallop cultivation in Lake Saroma is over 43 million scallops (43,616,000), of which 19 million are allocated to the 59 members of the Saroma Cooperative. For example, Koji Funaki, a member and also bureau chief of the magazine "Kagaribi," has a quota of 186,000 scallops. A longline system is used to suspend scallops in the water, as the cultivation method. One main line is 100 meters long, and each member is allowed to use a maximum of 45 main lines, with a specific amount of space for cultivation allocated to each member within the lake.
Funaki explains, "Just as farmers have ownership of their crop fields on land, fishermen have licenses to use allocated sections for aquaculture in Lake Saroma and are forbidden to enter anyone else's territory. As the boundaries are not as visible as they are on land, it would seem difficult to separate each territory in the lake, but there are actually more distinct borders there than those on land."
Besides scallop cultivation, oyster cultivation and shrimp fishing are also popular in Lake Saroma, and in the open Sea of Okhotsk, fishers catch chum and pink salmon in a fixed-net fishery and harvest bottom-cultured scallops, categorized as wild. Bottom culturing is a technique in which young scallops grown in the lake are released on the sea bottom for their final grow-out phase.
Though all 59 members of the cooperative are granted rights for scallop cultivation, they have to choose either shrimp or pink salmon to catch. Those who choose shrimp are not allowed to catch pink salmon and those who choose pink salmon are not allowed to catch shrimp.
Yoshiteru Abe, the cooperative's president, says, "The annual catch of pink salmon provides quite a large income, amounting to around 10 million yen (about U.S.$83,000), while shrimp brings in 2 to 3 million yen (about $17,000 to $25,000) at most. Both are done in cooperation with a couple of fishermen. It may seem obvious that fishing pink salmon is more advantageous than shrimp fishing because of the larger catch, but salmon fishing includes the high costs of fishing for equipment such as fixed nets and paying a crew, and then there's the risk that nets are lost in a storm. In contrast, with just an outboard motor, shrimp fishing is relatively easier and cheaper in comparison. As both have advantages and disadvantages, determining which one to choose is done through discussion among the members."
What's unique with the Saroma Fishery Cooperative is that wild scallop and chum salmon fisheries in the open Sea of Okhotsk are not operated by members of the cooperative, but by freelance fishermen it directly employs. For this reason, it owns three boats for scallop fishing and one for chum salmon fishing.
Abe says, "The members of the cooperative are busy with their own fishing and can't also manage salmon fishing and bottom culture of scallops in the open Sea of Okhotsk, so the cooperative manages it. It is the duty of members to release two million scallops every spring, but they do not harvest them. Out of the total catch, revenue is equally allocated to the cooperative members after deducting the cost of paying for the freelance fishermen, fuel, equipment, and fees. In the case of scallops, each member receives about 10 million yen ($83,000) a year."
Members must work for a week to 10 days to release the young scallops, but in return they are fortunate to receive a dividend of nearly 10 million yen. They also receive a dividend from the harvesting of salmon.
Funaki says, "Our salmon fishing follows suit with harvesting scallops, but harvesting salmon sees larger ups and downs compared to scallops. So, we sometimes have dividends of nearly five million yen (about $41,700) and sometimes there's a deficit. When we have a deficit, members cover it equally."
The average value of each fisherman's annual catch is about 20 million yen ($16,700). The half of this value comes from these dividends.
Socialism Operating within a Capitalist System
The Saroma Fishery Cooperative is a type of hybrid socialism operating within a capitalist system, and its operation is thoroughly managed, with neither winners nor losers among its members.
Funaki says, "In a sense, we do not dream to get rich quick. In our system, even if one member worked hard, there is no way he can earn 100 or 200 million yen on his own ($830,000 to $1,660,000). We don't compete excessively with each other, so no one goes bankrupt. This can be disappointing for the more ambitious fishermen, but the current members respect the predecessors who created this system."
Due to this sense of respect, it would be quite a disgrace for the whole cooperative if anyone ever went bankrupt. Once a member is found to be in trouble, the cooperative provides him with thorough instructions on many things, ranging from his fishing to his personal life.
Abe says, "It may look like there is no competition between members, but actually there is. In scallop aquaculture, for instance, wild spat (juvenile scallops) are collected with collector bags, grown in pearl nets until they grow as big as about four centimeters, and then released to the open Sea of Okhotsk. Before releasing the young scallops, we rank our 59 fishers by the size of the young scallops they grew and announce the results, from the top performing fisherman to the last one. This ranking does not directly affect their income, but it does matter to their pride as fishermen, so they take it seriously. Even in aquaculture, it makes a subtle difference in the growth of young scallops, depending on the ingenuity of each fisherman. Auctioning or bidding on the scallops are conducted by fishermen individually, and their sales are affected depending on the size of the young scallops they grow."
Abe explains that the cooperative system makes a difference in revenue of millions of yen but not beyond tens of millions.
Fishermen in Saroma may look very happy, with promising prospects, but the Saroma Fisheries Cooperative's system is not perfect.
"The biggest problem is the early retirement of member fishermen. The families with sons can hand over their fishing rights and boats to their sons, but the families with only daughters choose to retire from fishing at earlier ages because they hesitate to continue their family fishing business by having their daughters' husbands as successors. The decrease in the number of members causes financial problems for the cooperative, so we try to persuade them to keep working a little longer. All the money saved is refunded when they retire from fishing, so they are not worried about their post-retirement years. That is why they can easily decide to stop fishing," Abe says.
There are many requests from members of other cooperatives asking to join the Saroma Cooperative, but its system makes such requests difficult to be granted.
"According the rules of Saroma Fishery Cooperative, only people who have engaged in fishing for a certain period of time, are qualified to become a member. And the cooperative's rules also require operational experience, but obtaining fishing rights is a prerequisite for a fisheries operation, so practically nobody is able to become a new member. However, if the person is very honest and diligent, we ask him to work for three years or more as a sub-member. We then consult with the member certification committee regarding his status and offer him a way to work jointly with other regular members."
The system of the Saroma Fishery Cooperative, which boasts the largest savings per person among all Japan's fisheries cooperatives, was created by Chozo Funaki, the first president, followed by Chotaro Funaki, the second president, in the early development stage of the cooperative. And its spirit was learned from a set of precepts, known as "Hotokukun" (literally, "precepts of the requital of kindness"), written by Sontoku Ninomiya, a prominent 19th-century Japanese agricultural leader and philosopher.
["Hotokukun" by Sontoku Ninomiya The Precepts of Gratitude (provisional translation)]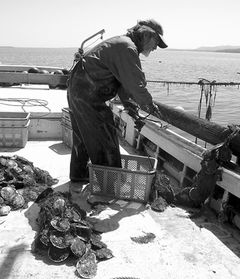 Copyright Kagaribi All rights reserved.
From the decrees of Nature
 -- Parents
From the care of parents
 -- Sound body of child
From the couple's diligence
 -- The child's inheritance
From the labors of ancestors
 -- Parents' wealth and status
From the good acts of parents
 -- One's wealth and status
From our diligence today
 -- Our children's wealth and status
From good food, clothing and shelter
 -- A healthy and long life
From fields and forests
 -- Food, clothing and shelter
From work of the people
 -- Fields and forests
From last year's efforts
 -- This year's food and clothing
From this year's tribulations
 -- Next year's food and clothing
What must never be forgotten
 -- Gratitude.
The last three lines in the precepts, in particular, are taken to heart by the Saroma Fishery Cooperative.
The Sea of Okhotsk in winter lies under a heavy gray sky, creating a cold atmosphere, but the sea looks rather warm after listening to the stories from this cooperative's leader.

Written by Kanichi Sugawara