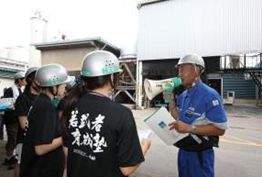 Asahi Breweries, Ltd., a major Japanese brewer, announced on January 13, 2015, that its Wakamusha (Young Samurai) Educational Seminar for Protecting Japan's Environment was awarded the 2014 Education, Culture, Sports, Science and Technology Minister's Prize, which recognizes companies with experienced-based learning activities for youth.
The seminar provides high school students with environmental education and hands-on experience in implementing solutions to environmental issues. Students with outstanding essays are selected to participate in a summer camp, where they gain first-hand knowledge of environmental issues through immersive learning experiences, study tours of factories with environmental management efforts, and learning from people engaged in environmental conservation activities. The seminar's goal is to give youth the skills to identify and address environmental issues so they can then return to their hometowns and become "wakamusha" (young samurai) who implement their own environmental conservation projects.
Since its launch in 2006 as part of the company's sustainability program, the seminar has been offered every year, with 221 graduates (cumulative total) as of fiscal 2014. Registered for the Ministry of the Environment's +ESD Project for promoting education for sustainable development activities, the program has also been introduced in Japan's 2014 Environmental White Paper.