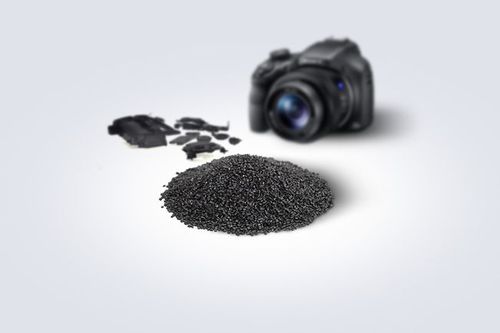 Copyright Sony All Rights Reserved.
Sony Corporation announced on August 4, 2014, that it would start outside sales of SORPLAS (Sustainable Oriented Recycled Plastic) flame retardant recycled plastic from the beginning of October. SORPLAS features up to 99% recycled material and high durability and heat-resistance. Through SORPLAS sales, SONY aims to increase resource recycling and reduce its environmental impact.
Conventional recycled polycarbonate resin requires the addition of large amounts of flame retardant and new polycarbonate resin. According to the company, SORPLAS employs a unique sulfur flame retardant and reduces added flame retardant to less than 10% of the conventional amount. This allows the product to achieve high durability and heat-resistance even when up to 99% recycled materials are used. The small amount of new polycarbonate resin also dramatically reduces CO2 emissions.
SORPLAS will be available in three lineups--high moldability type, high impact-resistance type, and thin-walled flame retardant type--suiting the specific requirements of a variety of products. Sony will widely offer SORPLAS to household appliance manufacturers and others in and outside of Japan at approximately the same price as conventional flame-retardant plastic.