JFS Newsletter No.141 (May 2014)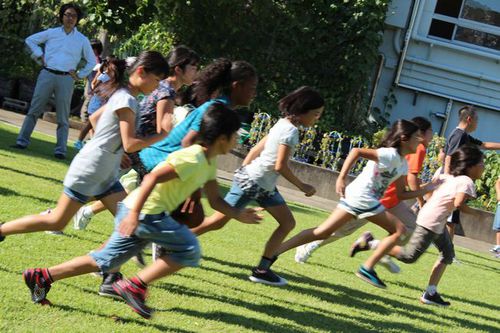 Copyright NPO After School All Rights Reserved.
What are After-School Activities?
Do you know what "after-school activities" are? In the United States, after-school activities started in the 1980s, and since then various programs for school children have been provided during after-school hours. The aim of such programs is to provide "space" where children can study with adults or have various experiences with friends, in order to nurture a sense of self-affirmation and a spirit of challenge.
In the United States, after-school activities are set up and funded by city governments with public funds such as taxes and run by non-profit organizations. School-age children can participate in various programs basically for free at schools, safe places for children.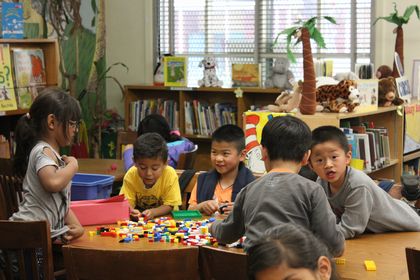 Copyright NPO After School All Rights Reserved.

Background of After-School Activities Emerging in Japan
Recently, the need for after-school activities has been increasing in Japan. Reasons include an increase in double income families, more frequent crimes targeting school-age children, and a shortage of after-school day care centers and other places where children can spend after-school hours. In traditional times, Japanese children lived in large families: fathers worked as the main breadwinners, mothers stayed home as homemakers, and grandparents lived together with them in the same house. Because of this traditional lifestyle, in which children were taken care of by the many adults at home, day-care facilities to which parents could send their children while working were not needed, and have yet to be fully developed in Japan even now.
In addition, even in households where mothers stay at home for child-rearing and do not go out to work, children have fewer opportunities than formerly to find a place to hang out during after-school hours, because children gather to play together after school less often in general. In a recent international survey on children's well-being conducted by UNICEF, about 30 percent of young people in Japan agreed with the statement "I feel lonely," when asked to agree or disagree with the following three statements about themselves: "I feel like an outsider or left out of things," "I feel awkward and out of place," and "I feel lonely." Sadly, this was the highest percent in the world for that statement.
Only a short while ago, children in Japan would often go out and play with their friends after school, spending time together until early evening. Japan was a safer place than other industrialized countries, and children could play by themselves. Recently, however, vicious crimes targeting children, such as kidnapping, have occurred and it has become harder for parents to tell their children, "Go outside and play with your friends."

Current Situation
So what do school children do after school nowadays? When the school has a day-care center, they play there. Some children go to private day care facilities, some stay at home playing video games, etc. Some go to private lessons, and some first graders even go to private preparatory school. Children who don't have much of a chance to play outside are said to have overwhelmingly less life experience compared to children in the past.
Against this backdrop, the non-profit NPO After School was established by Kuniyasu Hiraiwa, representative director, together with Ken Orihata, vice representative director, and other starting members. They wanted Japanese children to have various experiences and a safe place they could consider their own, as well as to support working mothers in Japan by providing such a service at a reasonable price. They thought the best way to do so would be to start after-school activities in Japan similar to those in America. Their strong motivation led them to set up the NPO and run programs.

What is the NPO 'After School'?
The three pillars of the NPO After School's activities are citizens, schools and the NPO itself. Only when these three, which have synergistic effects, are in place, is it possible to provide children with affordable, secure and diverse programs. Cooks, master carpenters and musicians, who have various skills, become citizen "teachers" and participate in the programs. After School serves to connect schools and citizens.
The main activities of After School involve management of after-school programs, providing programs to public elementary schools and so on, and management of programs in partnership with businesses. In addition, the organization provides children who have special needs with after-school support and care during long vacations, and sets up and runs excursion programs for parents and children. There are over 300 types of programs, allowing children to select one that is suitable for them.

Difficulties After Establishment
Hiraiwa and Orihata started after-school activities in 2005 while keeping their jobs as businessmen. In the beginning they lacked credentials, so schools did not take their proposals for after-school activities at elementary schools seriously. Therefore, they continued their jobs as businessmen and for about two years provided programs, for example, at community halls with citizen teachers once a week. The reaction of children participating was favorable. Having earned the recommendation of parents, the organization could now begin to provide programs at elementary schools in their districts.
Both the needs for after-school care and the number of businesses operating private after-school care programs are increasing now. In reality, many children in private after-school day care programs spend their time in an apartment room until night falls. It would be more ideal for children if they could use large, ample school facilities, and so collaboration with schools is essential.
Hiraiwa and Orihata started after-school activities at schools in 2007. Since they were still working full-time and organizing the activities in their spare time then, it was a once-a-week volunteer activity. As they continued, they began to see the reality of children lacking energy and working mothers leading demanding lives. Partly encouraged by children who looked forward to the after-school programs they provided, they became re-energized and decided to set up the incorporated NPO After School in 2009 to expand their activities.
Even after that, Hiraiwa continued his day job, balancing his position as the representative director, but decided to quit his job when the NPO set up a partnership with Nitobebunka Elementary School to open the Nitobebunka After School in 2011. Currently, the NPO manages the After School's programs for five partner elementary schools, including private ones.

People Involved in After School
After School has 12 full-time employees, who form the core of the organization. Other members include student interns, volunteers (students, adults and senior citizens), citizen teachers and program coordinators. The citizen teachers receive a small honorarium for their work.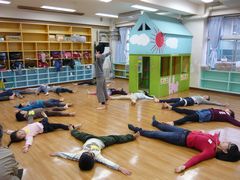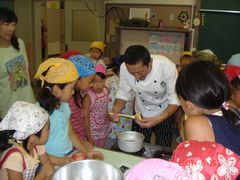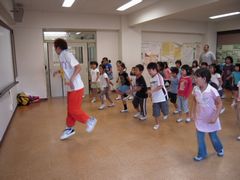 Copyright NPO After School All Rights Reserved.
To join After School programs, parents pay a fee. Sometimes, the organization receives a commission to deliver their programs to public elementary schools and others. In other cases, companies provide funding. Its operations are also financed through various sources, such as grants and donations from supporting members.

Current Status and Goals
In the United States, after-school programs have spread because the citizens understand their necessity and the government offers funding. On the other hand, in Japan, only several years have passed since people became aware of after-school issues. Although some mayors of local government are understanding, it has not led to full-scale funding.
The costs of After School programs offered now are fully covered by parents. The organization hopes to carry out its programs with the aid of government funding so children can join free of charge in the future, but it seems it will take time to create such a system. For the time being, Hiraiwa's goal is to reduce the fee of after-school programs to almost the same as that of existing after-school care, about 5,000 to 10,000 yen (U.S. $48.54 to 97.09) a month, so they can offer their programs to public elementary schools by having taxes cover the rest of the costs.
In addition to operating their regular programs, After School delivers extra programs to public elementary schools, and runs programs that are open to the public in collaboration with companies. Although it is important to offer their regular programs every day, After School holds such extra programs so that children who go to schools without an after-school program can participate.
Providing free programs can be a good opportunity to let more people know about the organization's activities, and companies also find it meaningful to collaborate with After School, with the result that, not just one school, but various people learn about the programs. After School maintains good relationships with companies by creating a win-win situation. Connecting with such collaborative companies is another of their important activities.
Many citizen teachers say they want to teach children again. One such teacher is a retired master carpenter who undertook one of the programs. He said he felt invigorated when he taught children his still exceptional skills and they called him "Master!" To have a place to play an active role is certainly one of the joys that citizen teachers gain.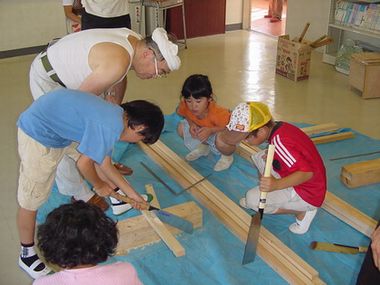 Copyright NPO After School All Rights Reserved.
In society there are many people who want to do something for children. In fact, After School has little problem finding candidates or asking them to undertake programs when they look for citizen teachers. The organization aims to spread its after-school activities to public elementary schools by solving financial challenges, and to make Japan a leading country in the area of after-school programs by using citizens' power effectively. The challenges for Hiraiwa and his team are ongoing.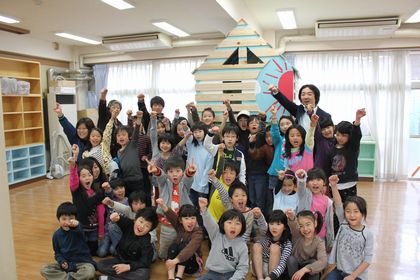 Copyright NPO After School All Rights Reserved.

Written by Misato Sato and Junko Edahiro