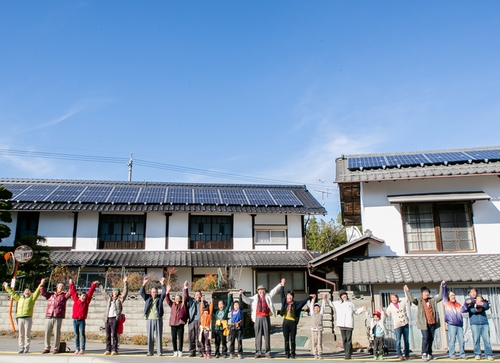 Copyright Ueda Citizen Energy

Ueda Citizen Energy, a non-profit organization (NPO) in Ueda City, Nagano Prefecture, Japan, started on March 8, 2013, a new project called Ainorikun (meaning "car pool" in Japanese) Plus to accelerate the growth of local solar power generation, as a follow up to a more limited Ainorikun project launched in November 2011. The NPO calls for local-area "roof owners" and nationwide "panel owners" to jointly install solar panels on sunny rooftop spaces.
The previous Ainorikun project targeted only private-house type solar power generation with an output under 10 kilowatts, and participants in the project were only able to trade surplus electricity. The new Ainorikun Plus project, in response to the feed-in-tariff scheme established by the Japanese government in July 2012, will target power generation businesses to trade both surplus electricity, as well as total electricity generated. The project is designed to utilize various land and roof spaces, such as public facilities, retail shops and colleges.
With 100,000 yen (about US$1,064) or more paid for the cost of setting up panels, anyone can enter a 13-year contract with the NPO to become a panel owner. Panel owners can sell the total electricity generated by the panels and earn the profit after deducting the costs necessary for maintenance and management. The NPO estimates that a panel owner paying 100,000 yen to join the project would acquire an income of about 120,000 yen (about US$1,277) from selling electricity over the 13-year period, while a panel owner paying 500,000 yen (about $5,319) would acquire about 610,000 yen (about US$6,489). The estimates are based on the purchase price in fiscal 2013.
To date, with 10 roof owners and 37 panel owners, the project Ainorikun has installed photovoltaic panels with a total output of about 69 kilowatts. The director of the NPO, Mayumi Fujikawa notes that because this is a project supported by citizens, collaboration with local governments, universities and private companies is possible, and that by further spreading networks featuring citizen ownership, renewable energy can be promoted all over Japan.
Related JFS article:
School in Suzaka to Generate Power as Local Energy Provider
JCCU Launches Solar Power Project on Roofs of Logistics Centers
Japanese City to Start Leasing Rooftop Space for Solar Power Generation
Japanese NPO Starts Residential Solar Co-Ownership Project