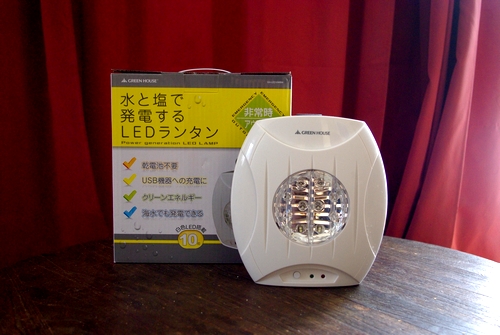 Photo by Japan for Sustainability

Green House Co., an office equipment manufacturer, announced on September 3, 2012, that it is launching sales of an LED lantern, its GH-LED10WBW model, which can generate electricity using just water and salt. The device requires no dry cells or battery charging. By simply pouring saline water into the lantern, ions start traveling from a metal rod of magnesium to a carbon rod, thus generating electricity to power the light, which has a luminous flux of 55 lumens.
While the single magnesium rod can generate up to 120 hours of light, the saline water needs to be replaced every eight hours of use. The electricity generated can also be used for USB-powered devices using a USB cable that comes with the lantern. With no need to worry about self-discharging, the lantern is ideally suited as part of any outdoor or emergency preparedness kit.