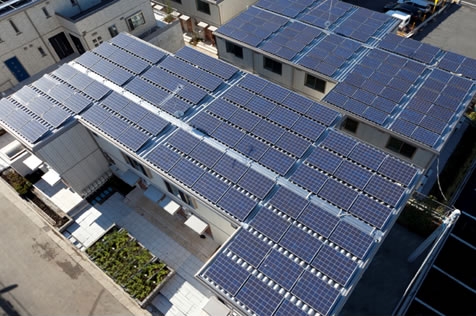 Copyright Sekisui Chemical Group

Housing Company, part of the Sekisui Chemical Group, a leading Japanese maker of plastic products and prefabricated housing, began on July 24, 2012, offering BIG Solar, a new line of rental apartments equipped with a photovoltaic (PV) system of more than 10 kilowatts (kW). The new houses will be built nationwide except Okinawa and snow-covered areas, taking advantage of the Feed-in Tariff Scheme for Renewable Energy launched in Japan in July 2012.
The company has been building detached houses with photovoltaic systems since 1997, completing over 100,000 such residential buildings as of the end of 2011. The number sets a new Guinness World Record for the largest number of solar-equipped homes built by a single company. As part of its business strategy to differentiate itself in the rental housing market, the company began offering rental houses with PV systems in 2009.
The buyback price for electricity generated by a PV system with a capacity of 10 kW or more is set at 42 yen (about 52 U.S. cents) per kilowatt in fiscal 2012 under the Feed-in Tariff Scheme for Renewable Energy. Because the buyback period is set for 20 years, which is longer than the 10-year period for PV systems of less than 10 kW, homeowners or investors can expect to bring in greater revenue with the larger-scale PV system.
Electricity generated by the larger PV system can be distributed to tenants to reduce their utility bills or, if sold back to the utility in its entirety, generate revenue to reduce their common service fee or otherwise give tenants some added benefits. While the rental vacancy rate is rising in Japan, these benefits for tenants will help owners keep their property running over the long-term.
Related JFS article:
80% of the Residents Living in Homes with Photovoltaic Systems Pay No Energy Bill
Sekisui Chemical Achieves Record with Home Photovoltaic Installations