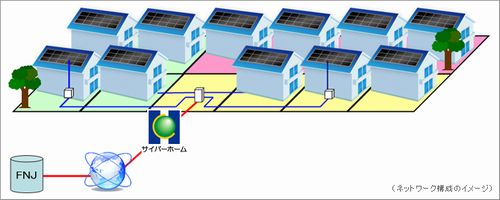 Image of the network configuration
Copyright FAMILYNET-JAPAN CORPORATION

FAMILYNET-JAPAN CORPORATION (FNJ), an Internet service provider for condominiums, announced on October 31, 2011, that it would provide a Home Energy Management System (HEMS) to "Mina Garden Tookaichiba," where Yokohama City Housing Supply Corporation would sell 11 single-family houses. Its system connects the whole town to a network and introduces the "me-eco" service that makes energy consumption visible and encourages eco-friendly behavior. The construction of the town will be completed by the end of March 2012.
"Mina Garden Tookaichiba" is an urban-development project promoted as a part of the "Yokohama Eco-Conscious Model House Promotion Program - Everyone's Eco-Program" in the framework of a smart city project through coordination between the City of Yokohama, Yokohama City Housing Supply Corporation, universities, and local companies.

FNJ's "me-eco" makes usage of electricity, gas, water, and photovoltaic generation visible, and offers a "Home Automation" system that enables users to control air conditioning, lighting and water heaters from outside the home. In addition, it provides a content service that encourages green efforts inside the town utilizing the network function as well as a "Carbon Credit Trading Service". It is the first attempt in Japan to offer these services in an integrated manner for commercial purposes.

Toyota Home, Toyota Smile Life Launch 'Smart House' (Related JFS article)
http://www.japanfs.org/en/pages/031259.html
Posted: 2012/02/10 06:00:15 AM