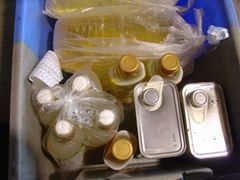 Copyright Daichi wo Mamoru Kai
Daichi Wo Mamoru Kai (the Association to Preserve the Earth), an organic products home delivery company in Japan, launched an initiative called "Switch Energy Resources" on Apr.11, 2011. The initiative's aim is to reduce Japan's dependence on nuclear power. As part of the shift to more stable renewable energy resources, the company will collect used cooking oil from members and refine the oil into a Vegetable Diesel Fuel (VDF), which farmers will then use in their farming equipment to grow vegetables. By selling vegetables grown using VDF, the company will also try to raise awareness of the importance of recycling used cooking oil.

From July 11 to September 30, 2011, the association will collect used cooking oil from members and refine it into VDF. Farmers will use VDF-powered farming equipment such as tillers and tractors to grow vegetables including Japanese Mustard Spinach and red leaf lettuce, which will be sold as "Yukaina Yasai Monogatari" by the Association from October to the end of December 2011. Sale prices are the same as usual produce.
Used cooking oil can be recycled into VDF, but because few consumers are aware of this potential resource, most of the approximately 200 thousand tons of cooking oil used every year is thrown away or drained into rivers as domestic wastewater, thus compounding environmental degradation.
Posted: 2011/11/17 06:00:15 AM