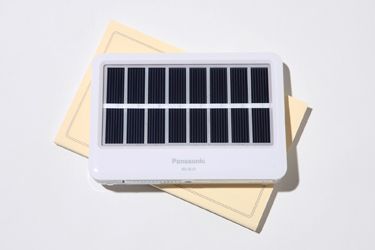 Copyright Panasonic Corp.

Panasonic Corp. of Japan announced on August 26, 2011, to release a new compact solar-powered lighting device, BG-BL01G. It is equipped with a paperback-sized solar panel, capable of generating, storing, and supplying energy by itself.
Panasonic applies its high-efficiency HIT® solar cell technology to the device, which uses a solar panel measuring 12.8 centimeters long by 6.3 centimeters wide. The product stores electricity generated by its solar panel, or from USB devices, to two EVOLTA AA size rechargeable batteries. Electricity stored in the batteries can be used to power not only the LED light but also mobile devices through a USB output terminal attached to its side. The batteries can also be removed and used in a radio or other appliances.
According to Panasonic, the batteries take approximately 15 hours to be fully charged with the solar panel and 7 hours with the USB connection. Light-emitting diodes are used as a light source, enabling illumination of about 10 hours in high brightness mode and 60 hours in low mode. When the batteries are fully charged, output time with the USB is 80 minutes with a load of 500 milliamperes .
The device is also portable, weighing only 150 grams without batteries.
Panasonic Provides Life Innovation Container for Japan Earthquake Victims (Related JFS article)
http://www.japanfs.org/en/pages/031045.html
World's First Solar Cell Phone Straps Go on Sale (Related JFS article)
http://www.japanfs.org/en/pages/027052.html
Posted: 2011/10/26 06:00:15 AM