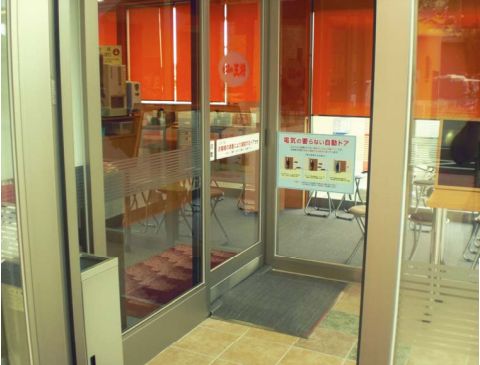 Copyright Yuki Corporation

Ohsho Food Service Corporation, a company running a nationwide Chinese restaurant chain called Gyoza-no-Ohsho, has introduced an automatic system to open and close sliding doors that does not require electricity, which has been attracting attention for its electricity saving benefits in a country where electrical sliding doors are very common in retail shops.

According to Ohsho, the first automatic doors were introduced in July 2011 in their restaurant in Suita, Osaka Prefecture, and a new restaurant in Kanazawa, Ishikawa Prefecture. The company says it will also install the doors in their existing restaurants when they are renovated. The news of the company's activity was introduced to the public when the restaurant in Suita was selected as one of Osaka's "Electricity Saving Challenge Shops."
The non-electric automatic sliding door, called the "AutoDoorZero," was developed in 2009 by Yuki Corporation, a material processing company in Fukushima Prefecture. It utilizes the weight added on a plate embedded in the floor when a person steps on it in order to open and close the door. A single door of less than 40 kilograms can be opened with a minimum weight of 20 kilograms.
Although the installation cost is 20 percent higher than that of a regular electric door, the AutoDoorZero has some advantages: it helps reduce operating costs and it works even during a power blackout. The doors have also been installed in schools in the Tohoku district, highway rest areas, and banks.
Chinese Restaurant Chain Recycles its Food Waste to Grow Vegetables (Related JFS article)
http://www.japanfs.org/en/pages/030604.html
Posted: 2011/10/06 06:00:15 AM