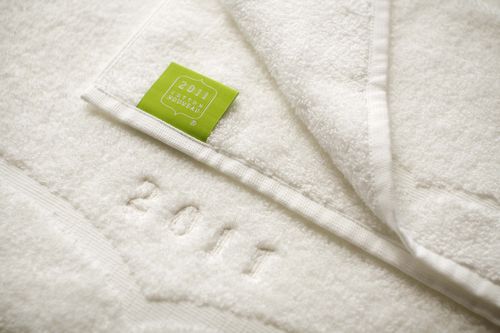 Copyright Ikeuchi Towel Co.

On April 21, 2011 Ikeuchi Towel Co. started the sales of its new "Cotton Nouveau" product line of towels that come with a number of environment-friendly features, including being made from 100-percent organic cotton, freshly harvested and grown without the use of herbicides.
The concept of the Cotton Nouveau product line is "towels to be enjoyed like the taste of annual nouveau wine," because just like the popular Beaujolais Nouveau wine, the company says it is offering the luxury of enjoying the "towel of the year" by selling towels made from freshly harvested cotton grown at farms under contract, at a fixed time of the year.

With its motto of making products with the "utmost safety and minimum environmental impact," the company uses organic cotton that meets European Union standards, including the following three elements: the cotton is grown in fields that have been free of pesticides and fertilizers for at least three years, using non-genetically modified seeds, and following fair trade principles. They are woven at certified spinning mills and the dyeing and finishing processes are done at Interworks Inc., a jointly managed cooperative of six towel manufacturers, using the world's leading wastewater purification system.
The company also says its towels are "woven with the power of the wind," as 100 percent of the electricity used for production comes from wind power, allowing a reduction of carbon dioxide emissions by 473 grams per bath towel compared to regular ones.
"Helping Weave a Healthy and Sustainable Lifestyle with Organic Cotton 'Made in Earth'" (Made in Earth)
http://www.japanfs.org/en/mailmagazine/newsletter/pages/027873.html
Posted: 2011/05/20 06:00:15 AM