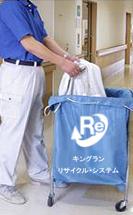 Copyright Teijin Fibers Ltd.
Teijin Fibers Ltd., a major polyester fiber manufacturer, and Kingrun Co., a major curtain leasing company, announced on December 16, 2010, that they would jointly launch a closed-loop recycling system for curtains used in hospitals and welfare facilities in January 2011. The collaboration will be the first of its kind in Japan.
The new system, called KG Recycle System, will utilize Teijin's closed-loop recycling program for polyester products, known as ECO CIRCLE program. In this program, collected polyester products are chemically decomposed to the molecular level and reassembled to create new polyester fibers at a quality comparable to material derived directly from petroleum. The recycling process also can be repeated multiple times, thus helping to reduce petroleum consumption and waste generation.
Kingrun's part in the program will consist of leasing and selling curtains to hospitals and welfare facilities and collecting used curtains. The curtains will be made of Teijin's flame-retardant polyester, SUPER EXSTAR, and will comply with the revised Green Purchasing Law of Japan in terms of their use of recycled fibers and recyclability. Collected curtains will be brought to Teijin's Matsuyama plant and recycled into new polyester fibers through the ECO CIRCLE system. The two companies' sales targets for recyclable curtains are 1 million square meters for fiscal 2011 and 1.5 million square meters for fiscal 2012.
Teijin Fibers Closed-Loop Recycling System Welcomes 100th Participant (Related JFS article)
http://www.japanfs.org/en/pages/028732.html
Posted: 2011/04/08 06:00:15 AM