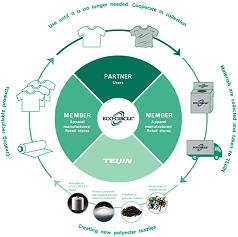 Copyright Teijin Fibers Limited
Teijin Fibers Limited, a Japanese polyester polymers, fibers and textiles company,, has been promoting a closed-loop recycling system for polyester products, known as the ECO CIRCLE™ since 2002. The number of ECO CIRCLE™ member companies reached 100 in September 2008.

ECO CIRCLE™ utilizes Teijin Fibers' innovative chemical recycling technology for polyester products as a core element. Its unique recycling technology is a world first in this field. The technology enables decomposition of used polyester products at the molecule level, followed by reproduction of new polyester fibers. In addition, this process can be repeated multiple times. The energy consumption, as well as carbon dioxide emissions, can be reduced by 80 percent when compared production from petroleum.
The ECO CIRCLE™ system was originally launched for recycling uniforms or interior materials. The system then gradually expanded through partnerships with outdoor gear manufacturers and apparel businesses and through the use of products for making eco-bags. ECO CIRCLE™ now provides recycled products for general consumers.
Of the total member companies, about 40 companies are uniform-related, 20 school gym clothes, 10 interior, 10 apparel and 20 bags/materials. The company plans to expand business overseas by achieving international ECO CIRCLE™ partnerships and increasing the number of member companies in a range of manufacturing fields.
- Teijin Ltd. official website
http://www.teijin.co.jp/english/index.html
- Teijin Fibers Ltd. official website
http://www.teijinfiber.com/english/index.html
- Patagonia, Teijin Launch Complete Recycling of Polyester Garments (Related JFS article)
http://www.japanfs.org/en/pages/026153.html
Closed-Loop Recycling System for Company Uniforms Initiated (Related JFS article)
http://www.japanfs.org/en/pages/026565.html
Itochu Corp. to Launch Recyclable 'MOTTAINAI' Brand Neckties (Related JFS article)
http://www.japanfs.org/en/pages/026290.html
Posted: 2009/02/1206:00:15 AM