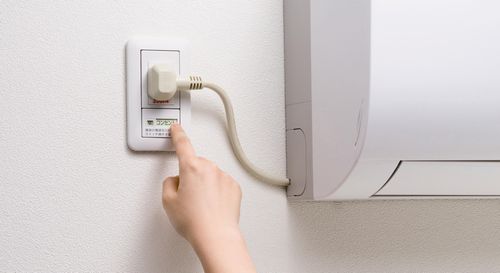 Copyright Panasonic Electric Works Co.

Panasonic Electric Works Co., a major Japanese manufacturer of electrical construction materials and building products, etc., launched a device on March 21, 2010, that eliminates standby power consumption without unplugging electronic appliances. The device will help users save money on unnecessary electricity costs, in addition to reducing carbon dioxide (CO2) emissions.
Standby Power refers to electric power being consumed while the electrical appliance is plugged in, even if it is not being used. The device can be used to eliminate standby power waste in household electrical appliances, without requiring the device to be unplugged after each use. Through development of its unique technology, Panasonic Electric Works was able to realize a rating of 20 amperes, allowing users to safely operate the device.
Particularly for air conditioners, the company launched a wall socket with switch. During periods when the appliance is used less frequently, users can cut standby power consumption by simply turning off the switch. This prevents the power cord from hanging loose on the wall and helps maintain interior esthetics.
Panasonic to Develop Home Energy Management System Linked to Smart Grid
(Related JFS article)
http://www.japanfs.org/en/pages/029778.html
Panasonic Electric Works Co. global website
http://panasonic-electric-works.net/
Posted: 2010/07/09 06:00:15 AM