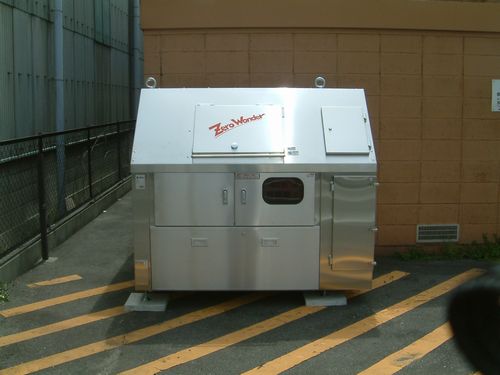 Copyright Aleph Inc.

Japan's Ministry of the Environment announced on February 8, 2010, that the "Food Recycling Promotion Environment Minister's Award" was presented to Aleph Inc. for its recycling project for garbage and waste cooking oil from its restaurants and factories. Aleph operates several restaurant chains in Japan.
The company has a garbage recycling network, in which garbage generated at each "Bikkuri Donkey" hamburger restaurant is fermented and dried in waste disposal units installed at 99 shops out of 130 in total (as of March 2009), composted by contract farmers and then utilized for vegetable farming. Aleph also produces methane gas from draff at its beer factories to generate electricity, and collects used cooking oil from households to produce biodiesel.
The Environment Ministry established the award in fiscal 2007 to recognize and promote outstanding projects for curbing the amount of waste generated in food-related industries. Awards are given to projects to recycle or recover heat from food waste, and reduce food waste. Of 22 entries for this year's award, one was selected for the Grand Prize, two for Outstanding Awards, and five for Incentive Awards.
One outstanding performance award in the Recycle Loop category was presented to Ohsho Food Service's "Ohsho Gyoza's Recycle Loop" project, and the other in the Recycling category went to Shizuoka Yuka Kougyou Co., an oil chemical company, for its efforts to produce feed and biofuel from bean curd refuse.
Posted: 2010/05/18 06:00:15 AM