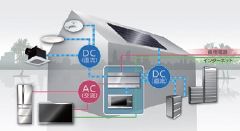 Copyright Panasonic Corp.
Major Japanese home appliance manufacturer Panasonic Corp. recently proposed a prototype home and lifestyle that reduces environmental impacts at the same time as providing a comfortable living space, at Combined Exhibition of Advanced Technologies (CEATEC) Japan 2009, a comprehensive, cutting-edge information technology and electronics trade show, which was held in October 2009 at Makuhari Messe in Japan's Chiba Prefecture. Panasonic identified three specific measures for energy saving, creation, and storage in order to realize a lifestyle that generates less carbon dioxide (CO2) emissions, using its concept of an "CO2±0 in an Entire House."
Energy saving in the home is achieved through a significant reduction in everyday power consumption, including the use of low-power digital audio-video equipment and home electrical appliances and equipment. Energy creation is achieved by producing electricity through fuel cell and photovoltaic generation, while energy storage is achieved using household lithium-ion batteries, and the electricity is then used only when needed.
The company has conducted research and development on controlling energy use in the whole house using a home energy management that links these systems, which includes its Alternating Current /Direct Current (AC/DC) Hybrid Wiring System for reducing energy loss when converting DC power flowing from fuel cell generation, photovoltaic generation, and storage batteries to AC power.
The company is also considering a system that provides a more comfortable living environment by eliminating energy waste and using information collected by various sensors installed inside and outside the house to more efficiently manage electricity use.
Panasonic Corp. official website
http://panasonic.net/
Posted: 2010/01/01 06:00:15 AM