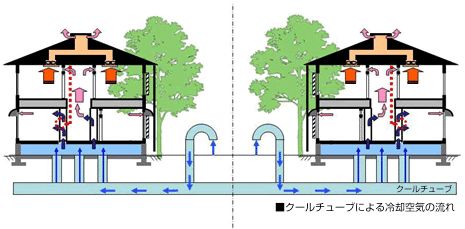 Copyright PanaHome Corp.

A housing project being built in the Nerima Ward of Tokyo by PanaHome Corp., a leading Japanese housing manufacturer and corporate member of the Panasonic Group, was selected by the Ministry of Land, Infrastructure, Transport and Tourism on June 26, 2008, as a model for the first year of its program for reducing carbon dioxide (CO2) emissions from residences and buildings. Ten plots, of which nine are intended for the model program, will go on sale in the tentatively named Eco-Life Town Nerima Takanodai in fiscal 2009, the year ending March 31, 2010.
Due to the rising amount of CO2 emissions from the household and office sectors, the ministry aims to encourage housing- and building-related emission reductions by selecting leading housing projects from the public sector that have a high promise of success, and then subsidizing part of their building costs.
PanaHome plans to combine a hybrid ventilation system that uses both natural and powered ventilation, along with an underground cooling tube system connected to each house. The latter uses geothermal energy to maintain a stable intake air temperature. The synergistic effect of the two systems will contribute to comfortable indoor air quality year round, as well as a drastic reduction in CO2 emissions.
The selected project aims for improved effects by linking the hybrid ventilation systems of individual houses with cooling tubes, a feature that the ministry highly evaluated for its collective advantage.
- Ministry Selects 10 Model Projects for Housing and Buildings to Reduce CO2 Emissions (Related JFS article)
http://www.japanfs.org/en/pages/028527.html
Posted: 2009/01/28 6:00:15 AM