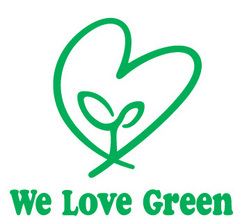 Copyright Family Mart Co.
Family Mart Co., one of Japan's leading convenience store chains, announced on August 4, 2008, that it will expand its scheme of using eco-friendly packaging to all of its original delicatessen food products. While they plan to increase the number of items with paper packaging, they will also launch the use of biomass plastic in containers for desserts, dairy and soybean products.

For its deli foods, the company has been using paper containers since 1999, pulp-mold containers made from reeds since 2002, biomass plastic containers since 2007 and wooden trays made of a fast-growing tree named falcataria in 2008. Under the new scheme, it will expand the number of eco-friendly packaging items by approximately 120 percent from 2007 levels.
The company has also decided to attach the logo of its environmental protection activities, "We Love Green," on deli food products packaged in eco-friendly materials. Until now, the logo has only been used on its original eco-friendly daily goods. By attaching the logo to other products, the company intends to show its attitude toward environmental protection and contribute to increasing environmental awareness among customers.
- FamilyMart Co. official website
http://www.family.co.jp/english/
- FamilyMart to Adopt On-Site Microwave Disposer for Food Waste (Related JFS article)
http://www.japanfs.org/en/pages/025190.html
- "From 'Convenience' to 'Co-Growing'" (FamilyMart Co., Ltd.)
JFS Newsletter No.37 (September 2005)
http://www.japanfs.org/en/mailmagazine/newsletter/pages/
027886.html
Posted: 2008/12/30 6:00:15 AM