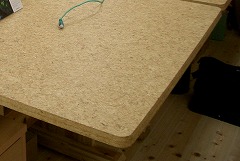 Copyright Shinwa Mokuzai Co.
Shinwa Mokuzai Co., a wood processing company in Gifu Prefecture, has developed and is now marketing a new type of strand board called "S-wood," made from small-diameter timber and other wood thinned from domestic tree plantations. This product obtained Eco-Mark certification from the Japan Environment Association in October 2001 and was certified as a recycled product in February 2002 by Gifu prefecture.
In Japan, thinned wood and small-diameter timber tend to be abandoned after being cut down. Most of this wood is wasted because it is unprofitable to market. Thus, S-wood has been attracting attention as an effective way to utilize this kind of waste wood that contributes to reducing timber imports.
S-wood strand board uses non-hazardous adhesives to prevent "sick house syndrome" and minimize the emission of volatile toxic chemicals such as formaldehyde in order to ensure consumer health and safety. In addition, a fire-retardant S-wood product has also been developed for the interior of large-scale buildings that are subject to strict fire regulations.
So far, S-wood has been marketed as an interior building material and used in wainscot paneling and closets for houses, flooring and doors for stores, and to make mouse pads and desk mats. Japan for Sustainability (JFS) uses S- wood mouse pads and desks at its office.
Posted: 2005/05/07 10:21:23 PM
Japanese version