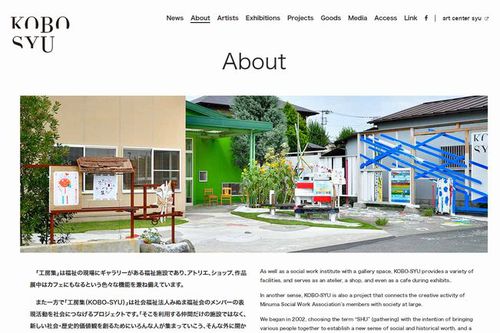 KOBO-SYU website
KOBO-SYU, a welfare institution established in 2002, turns artwork created by people with disabilities into products sold under original brands. Founded with the intention of providing a place that is "open to the outside" and brings people together to create new social and historical value, the institution has supported people facing various hardships.
KOBO-SYU is a social work institution that serves multiple functions: it's a gallery space, a studio, a shop, and even a cafe during exhibits. "KOBO" in Japanese means "studio" and "SYU" means "gathering." The name reflects its commitment to providing a place that is open to the outside, not just for the use of its members.
KOBO-SYU's parent organization, Minuma Social Services Corporation, was founded on the principle of "building facilities that accept all who wish to come," and accordingly has accepted individuals beset by various hardships, including those with severe disabilities and those who have been rejected by other institutions. But rather than just providing a welcoming space for these people, the corporation has carried out activities to support each individual's wishes to live a normal life. Thirty years on, the corporation has 22 projects, which includes operating 11 facilities used by more than 300 people with disabilities.
Facilities managed by Minuma Social Services include a total of ten studios where some 120 members engage in creative activities with wide-ranging media and materials--everything from painting, weaving, stained glass, woodwork, photography, calligraphy, poetry, manga, and papier mache to do-it-yourself projects using things like thread, duct tape, copper wire, and hot glue. It is definitely not that the corporation has gathered people of great talent, but just the opposite: people previously labeled incompetent are not only finding personal happiness, but also transforming the aesthetic criteria and the consciousness of those around them by producing unprecedented works of art.
Many of the artworks at KOBO-SYU are sold as original-brand products. Rather than having members create artwork for the purpose of selling, the institution thinks about how to convert each member's self-expression into products and how best to communicate the attractiveness of those products. To do that, KOBO-SYU holds an annual goods meeting for commercialization, as well as an annual design meeting with volunteers who process woven pieces of cloth, to exchange opinions and give shape to their ideas. KOBO-SYU also provides businesses with images of artwork and design, and holds exhibits.
It is hoped that KOBO-SYU's activities will grow and reveal new possibilities beyond the creativity of its members. And that the institution will help society become a place where people with disabilities can live with greater ease.