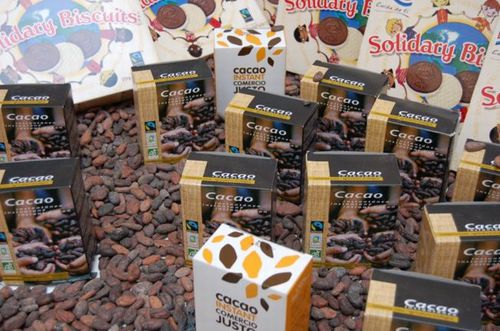 Image by Sello Comercio Justo Some Rights Reserved.
SoooooS. Company, a company specializing in the development of social businesses and products as well as providing marketing and communication support to create a better society, announced on May 16, 2017, the outcome of research on the social awareness and behavior of consumers. The results show that people who have purchased human- and eco-friendly products known as socially responsible products such as organic, ecological and fair trade items are happier than those who have not (meaning there are more subjectively happy people among consumers of such products). In addition, these people are more motivated to continue purchasing such products. Socially responsible products have recently been a topic of discussion in the context of food and material procurement standards for the Tokyo Olympic and Paralympic Games.
Moreover, upon learning that products use child labor or illegally logged timber, or entail other ethical problems, one or more in three respondents who have purchased socially responsible products and one in four of all respondents said they would stop buying the ethically questionable products.
This research also investigated the perceived image of buyers specifically of organic products. The results show that many people have positive images about such buyers, stating positively that they seem health-minded and environmentally conscious.
The number of people who buy socially responsible products is expected to grow. Furthermore, the research indicates that it is necessary for companies to also ascertain an accurate background for products and materials, to share information, and to adopt ethical behaviors even for general products not marketed as being socially responsible, if they want to be supported by buyers of social products.
The research was conducted in March 2017, targeting 500 men and women in Japan in their 20s through 60s.