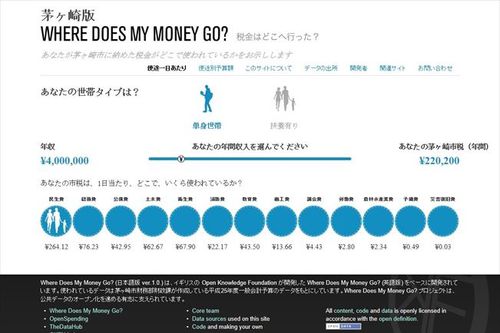 Copyright Shonan Apps! All Rights Reserved.
Shonan Apps!, a group of software developers in Japan, unveiled on December 2, 2013, a new website titled "Where Does My Money Go? (Chigasaki version)." Based on the general account budget of the city of Chigasaki, in Kanagawa Prefecture, the website shows residents the amount of city taxes they pay, based on their income, and how the city spends the money on a day-to-day basis.
By selecting their household type and annual income, residents are given the total annual city taxes they pay and the daily tax amount, assuming that the person is a salary earner. The daily tax amount is divided into 13 categories, including expenses for social welfare, fire brigade, and education. Some categories have further breakdowns such as elementary school expense and general educational expense under the education category.
The project "Where does my money go?" was launched by volunteers in Japan, inspired by the "Where does my money go?" project first developed in the U.K. Its purpose is to help people better visualize the amount and usage of their tax money, utilizing the budget and closing account data released by municipalities, and aims to raise understanding and awareness of tax issues among residents by showing the correlation between the benefits and burdens of public services. The project team is now considering comparing tax amounts between more municipalities as well as countries.
Information on recreating the page is available on the website to allow anyone to create a site for any municipality. Shonan Apps! released the website, the version for Kamakura City on December 5, 2013, for Zushi City on December 14, and for Fujisawa City on January 19, 2014. Yokohama was the first city in Japan where such a website was created, and as of January 10, 2014, 69 municipalities were listed.