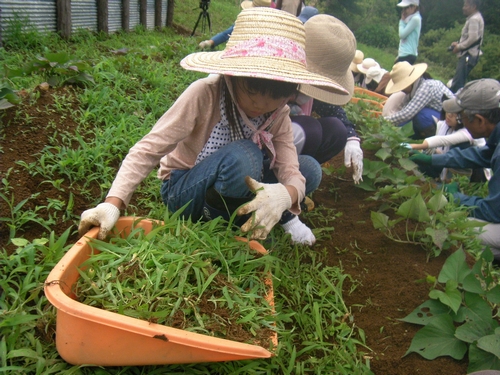 Copyright Ichimura Shizen-Juku Kanto

Japan Philanthropic Association Tokyo presented the 10th corporate philanthropic awards to "Ichimura Shizen-Juku" ("Shizen-juku" means "School of nature" in Japanese), a non-profit organization (NPO), on February 28, 2013. The NPO was set up in 2002 by Ricoh Co., a major Japanese manufacturer of electronic products and office equipment.
The awards honor activities for social contribution through one's management resources once a year. Underlining the fundamental principle of "Learn to live from the earth," the NPO supports development and growth through cooperative work with children at different ages under its regular nine-month agricultural work program.
Working with a "fund system for social action plan" that saves certain amounts of money from Ricoh's annual benefits, as well as the purpose (by selecting theme) and responsibility (continuous practice), the NPO was applauded for the corporate responsibility of its environmental and social activities, not simply the social contributions.
Special awards went to the efforts of four companies including OGIS-RI Co., which supports employment for the disabled people, and Kyocera Shiga Gamo and Shiga Yohkaichi Plants for their CSR activities aiming to co-exist with communities.
Related JFS article:
OGIS-RI to Expand Social Contribution Activities through PC Reuse