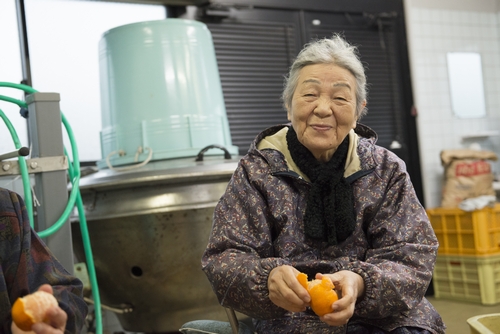 Copyright Muchachaen

Muchachaen, an agricultural cooperative organization in Ehime Prefecture, Japan, has been a producer of tangerines free of pesticides and chemical fertilizers and began sales of an organic cosmetic line, "yaetoco", in 2012. The products include toner, lotion, essential oil and bath salt, and are made from oil carefully extracted from tangerine peels, which was previously discarded as waste, by distillation with steam.
The cosmetic products are blended with pearls from the local sea and honey from citrus flowers grown at the Muchachaen farm. In addition, natural ingredients such as wasabi (Japanese horseradish) and grapefruit seeds are added as preservatives.
The company has been asking local seniors to peel tangerines, hoping that it might give extra purpose to their daily lives. With the production of healthy and safe foods that will not harm the environment, the company aims for community-building through a true ecological lifestyle.