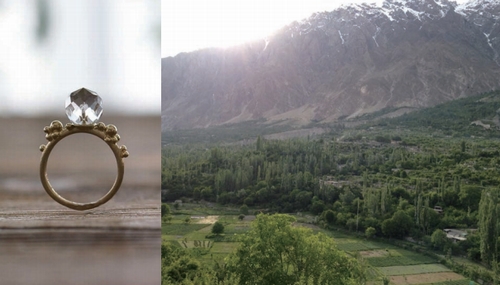 Copyright HASUNA Co.

HASUNA Co., a company focused on building its ethical jewelry brand using fairly traded and recycled materials, opened a shop at an accessories corner of a department store in the trendy Tokyo shopping district of Shinjuku, on March 6, 2013. The company was established in 2009 by Ms. Natsuko Shiraki, the president, with a desire to help with solving problems of poverty, not through financial aid but by conducting business between developing countries and Japan on an equal footing.
Mining in developing countries often comes with environmental damage, conflicts, and even child labor in the process of mining, production, and distribution of precious metals and gems. For instance, according to a 2012 report by the U.S. Department of Labor, child and forced labor has been reported at diamond mines in seven countries.
HASUNA defines "ethical" as "being concerned with various problems regarding people, society, and the environment," and tries as much as possible to purchase the materials for its jewelry directly from small-scale miners or artisans to ensure material source traceability.
Their jewelry line is aimed at being friendly for people and the Earth, by buying diamonds from Botswana and gold from Columbia, for instance, from sources that are unrelated to conflict or child labor and mined in an environmentally friendly manner, as well as seashells from Belize in Central America. The company already has three retail stores in Tokyo and Nagoya, and is planning to expand into western Japan and overseas.
Related JFS article
Japanese Association to Promote 'Social Products' Established
Survey Shows 85% of Women Interested in Buying Charity Chocolate