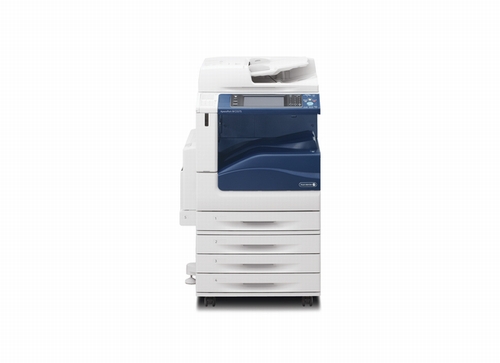 Copyright Fuji Xerox Co.

Fuji Xerox Co., a member of the Fuji Film Group of companies, announced on December 13, 2012, that its ApeosPort-IV C5575, C4475, C3375, and C2275 digital color multifunction printers received the Grand Prize for an Energy Saving Product at the Ninth Eco-Products Awards in Japan.
Because multifunction devices are not used most of the day, substantial reductions in energy use can be achieved by putting them in sleep mode. However, few users actually use sleep mode, since most want to avoid waiting for the devices to start up.
Fuji Xerox's award-winning multifunction device models were developed to provide users with virtually zero waiting time. Replacing 200,000 multifunction devices with a longer transition from standby mode to sleep mode with these models would reduce annual carbon dioxide emissions by an estimated 140 million kilograms.
The devices are also the first to use parts made of resin from woody biomass as a means for conserving natural resources.
Related JFS article:
Fuji Xerox Tokyo Cuts CO2 Emissions by Switching to Power-Assisted Bicycles
Fuji Xerox to Reduce CO2 Emissions by 30% from Its Product Lifecycle Stage by 2020