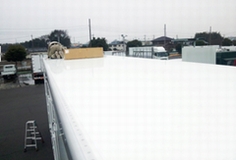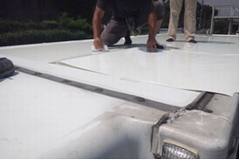 Copyright Sakurai Co.

Sakurai Co., a Nippon Paper Group company, announced on December 10, 2012, that it started commercial sale of CoolCal, a heat-shielding film for trucks. CoolCal is an adhesive PVC film with heat-blocking pigments uniformly mixed in to efficiently reflect solar heat rays. Applied over the top panels of freezer, refrigerator, and insulated trucks, the film suppresses temperature increases in the cargo room.
Sakurai Co. tested the CoolCal's heat-shielding effect on about 30 insulated or refrigerator trucks in cooperation with 14 trucking companies. The four-month field test in the summer of 2012 found that the temperature rise in the cargo room was diminished by 6 to 13 degrees Celsius. Moreover, the film is expected to contribute to a shorter cargo space precooling time, which is necessary to maintain the freshness and quality of the food items, therefore gas mileage also would improve, leading to lower fuel costs.
CoolCal's outdoor weather resistance is about five years. Because it is quick and easy to apply, and requires application to only the top panels of trucks to make it effective, the company hopes that many more vehicles will use CoolCal.