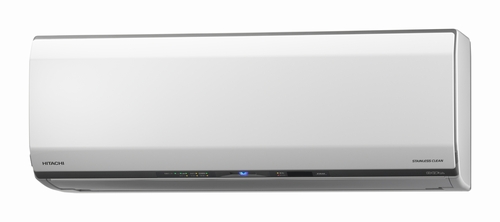 Copyright Hitachi Appliances Inc.

Hitachi Appliances Inc. began to release eight models of "Stainless Clean Shirokuma-kun S series" air conditioners featuring "Kurashi" camera, a monitoring camera, from late October 2012. The camera on the air conditioner unit constantly monitors occupants and room conditions to assure comfort, while allowing energy saving mode operation.
The camera takes advantage of image analysis technology to swiftly detect people entering and exiting the room, number of people, their locations and amount of activity, as well as room layout and sun-illuminated area. Based on this information, the air conditioning unit can switch to energy-saving mode while maintaining an appropriate comfort level for each human activity.
For example, during a heating operation, an air conditioner installed in an open living/dining/kitchen space where people frequently enter or exit would swiftly lower its capacity when the Kurashi camera detects the increase in the number of occupants and estimates temperature rise due to the additional people.
Related JFS article:
Mitsubishi Electric Releases 'Smart' AC, Advising Energy-Conscious Actions
New Air Conditioners with Infrared Sensors Reduce Energy Use by up to 50%