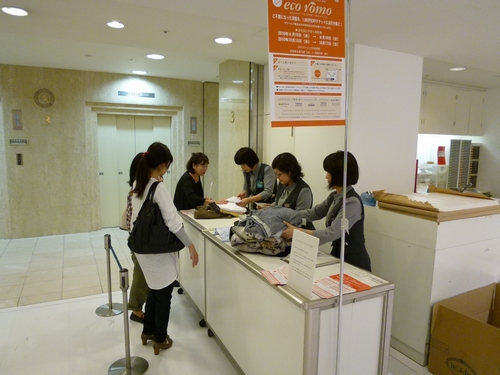 Copyright World Co.

World Co., a leading Japanese clothing retail chain, launched a campaign to collect unneeded clothes from the public at nine Daimaru Matsuzakaya department stores and nine AEON Mall stores, which are spread across Japan, on March 14, 2012. The aim is to collect and fully utilize used clothing, with zero waste, by reusing, reselling, or recycling them, and it has happened seven times since the autumn of 2009.
The unneeded clothes collected from the public at the stores are consigned to a recycling trade partner, who then sells them as used clothes or ships them overseas to be either recycled or reused. The proceeds are used to fund post-disaster reconstruction projects in areas damaged by the Great East Japan Earthquake.
Meanwhile, people who bring in their used clothes get one discount ticket per item in return that can then be used at World Co.'s stores, for a certain period of time.
World Co. has so far recycled more than 830,000 pieces of clothing. The company says that it has received much positive feedback from people for this contribution to society and for helping solve environmental problems through this regular campaign, which happens every season. The September 2011 campaign resulted in a donation of 1,116,649 yen (about U.S.$13,600) to the prefectures of Fukushima and Miyagi for post-earthquake reconstruction projects.
MUJI Conducts Clothes Recycling Project, Aims for 100% Recycling (Related JFS article)
Posted: 2012/08/31 06:00:15 AM